5 Most Walkable Neighborhoods in Indianapolis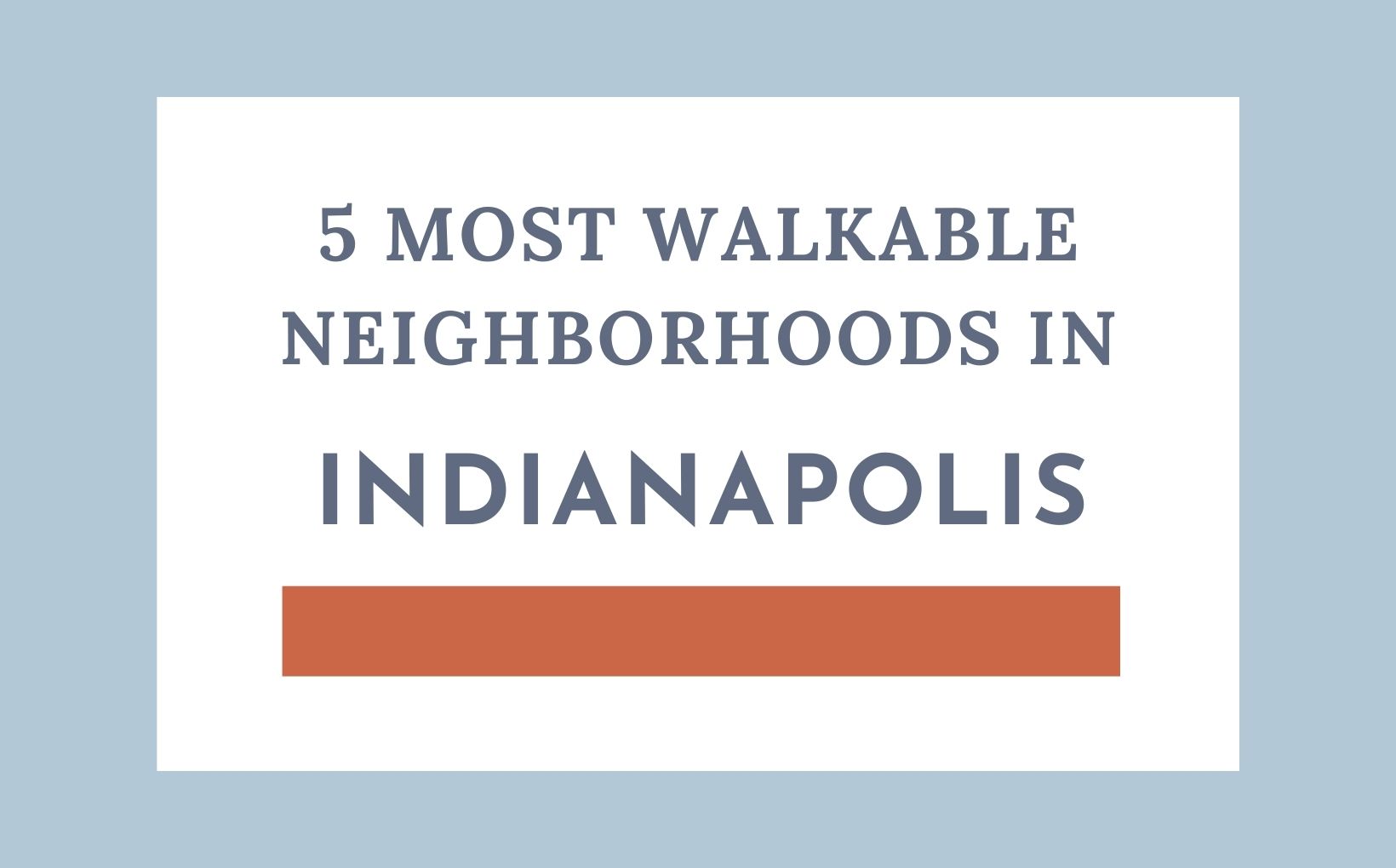 As city dwellers across the country decide to uproot to opt for the clean air of the spacious Midwest, many fear they will be losing one of the biggest draws to big city life: walkability. If this sounds like you, you'll be pleased to find there are plenty of walkable neighborhoods in Indianapolis, each one offering its own atmosphere and style. Get ready to lace up your sneakers and explore these top five walkable neighborhoods of Indianapolis.
Indianapolis's Most Walkable Neighborhoods
1. Downtown Indianapolis:
Downtown Indy is the most seemingly obvious on our list of walkable Indianapolis neighborhoods, but it's more than just high rises and sidewalks. Traveling outward from Downtown Indy, the walkability lingers for about a mile radius; giving the area a much bigger feel than just the heart of downtown. Downtown Indianapolis is made up of various cultural districts, but specifically Mile Square and the Wholesale District sit in the center of the action. 
In most cities, the downtown area can be a bit seedy, but Downtown Indy is actually known for being extremely safe. You can always find people milling about, day or night, and it's definitely a family friendly environment.
Some of the best food in all of Indianapolis can be found downtown. Celebrity chefs frequent the area, and restaurants serving an array of gourmet cuisine are constantly popping up. You can find a little bit of everything when it comes to the dining options downtown. This makes downtown Indy the perfect place to meet up with friends for a bite or a drink.
Tourism is strong in downtown Indianapolis, likely due to it being a sports hub. Lucas Oil Stadium, home of the Indianapolis Colts, resides in downtown Indianapolis, as well as many other sporting venues. And for the collegiate sports lover, Indianapolis is the annual host of the Big Ten Tournament.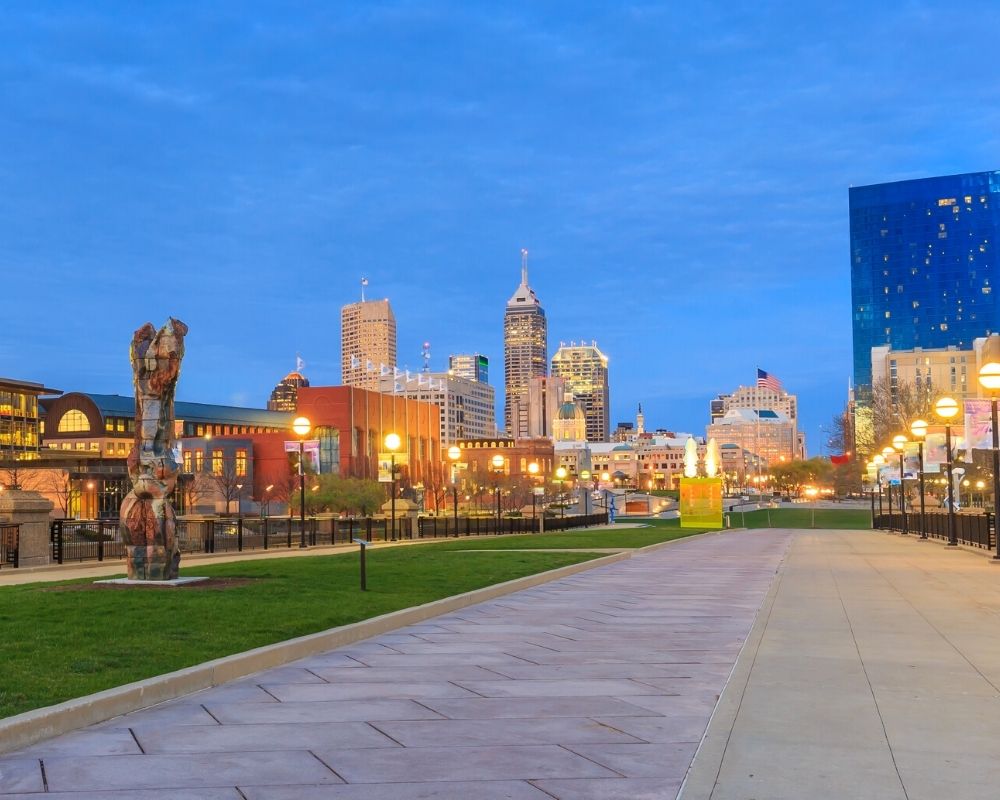 Homes in Downtown Indianapolis
Though Downtown Indianapolis is probably the most walkable neighborhood on our list, it's also the most limited when it comes to housing options. Due to lack of space, everything goes up when it comes to homes. Apartments, townhomes, and condos are pretty much your only option if you want to live downtown. For some, this is just part of city living, but for others; not being able to have a single family dwelling might be a deciding factor.
2. Broad Ripple and Broad Ripple Village:
If you're looking for a walkable, laid back, bohemian vibe in Indianapolis, Broad Ripple is where it's at! This neighborhood is one of the older, more established parts of Indianapolis, so you'll notice a more residential feel here. Don't let the cute homes fool you, though; Broad Ripple is one of the most vibrant parts of the Indy Metro Area, and the center of the nightlife scene. Broad Ripple Village is home to countless restaurants, bars, and local craft breweries. Many young professionals in the Indy area choose to live in Broad Ripple primarily due to its walkable proximity to nightlife, dining, and entertainment.
The walkability of Broad Ripple isn't just centered around eating and drinking. There are so many ways to get out and about in this charming little neighborhood. The Monon Trail runs right through Broad Ripple. This makes access around town easier, and giving residents a walkable (or bikeable) means to the north and south. Plus it opens up a plethora of activities for those living here, and a great way to stay active and reduce their carbon footprint.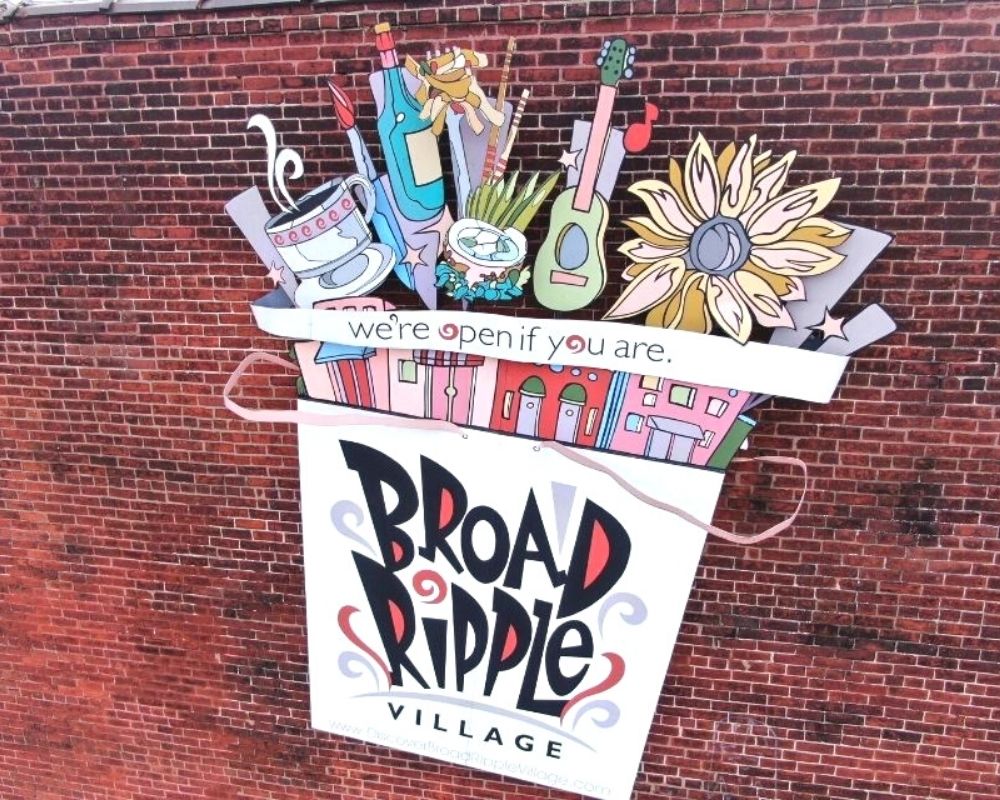 Homes in Broad Ripple
Because it's an older area, you can find plenty of housing options, but don't expect them to be cheap. Broad Ripple is a fun, vibrant place to live, and everyone wants to be there. You'll see condos, town homes, and single family detached dwellings, but they will all likely be a bit more expensive, smaller, older, and in need of renovations or repairs. If a two bed, one bath, cute little bungalow from the 1960's is just your style, then Broad Ripple might be the perfect walkable neighborhood for you!
3. Fountain Square:
A couple decades ago, you would never find Fountain Square on our list of most walkable Indianapolis neighborhoods. This up and coming suburb was once extremely run down and on the brink of total demolition. But thanks to millennial hipsters and their affinity for all that is old being inarguably better, this neighborhood is on the rise, and fast!
Fountain Square is now replete with little coffee shops and music venues, as well as some well known restaurants. In this walkable area you can find comic book shops, and record shops; making it the perfect place to grab a cup of coffee and stroll in and out of the stores. Just don't forget to wear your Converse high tops, lest you stick out like a sore thumb!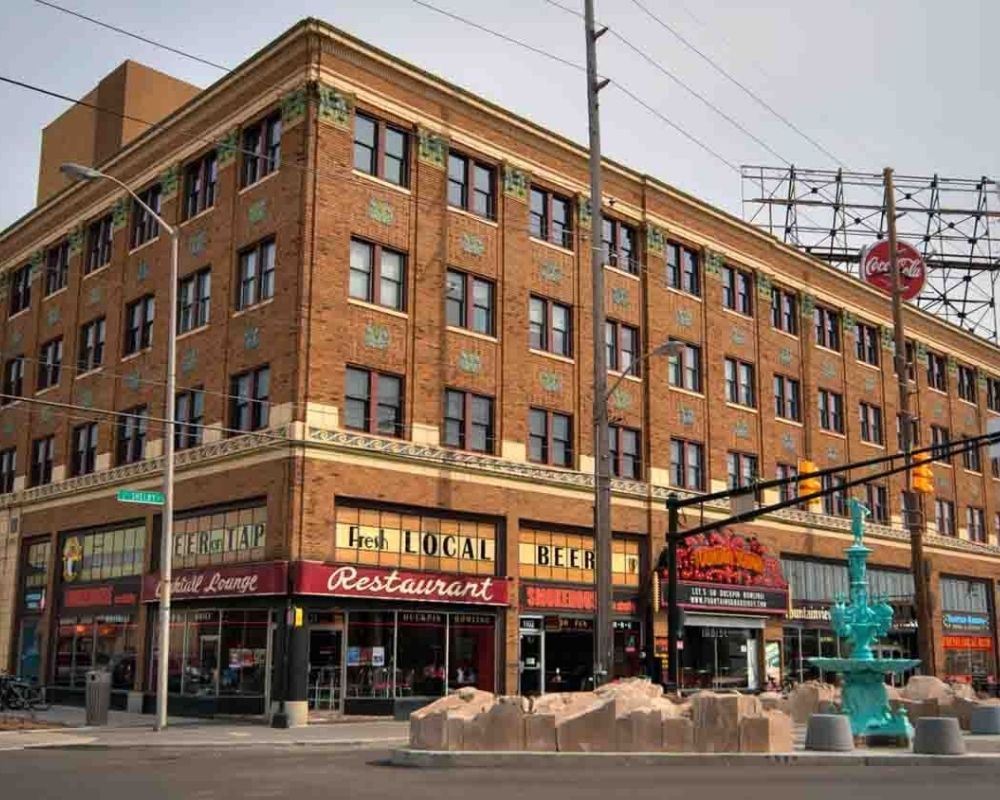 Homes in Fountain Square
Like most areas that are on the rise, often prospective homeowners can find a home that's still at a reasonable price, knowing the value will continue to increase. This is definitely true in Fountain Square. So if you think this sounds like the spot for you, you should act fast. Older, small homes with plenty of personality and charm can still be snatched for a reasonable price.
If on the contrary, you are attracted to the ultra contemporary vibe of many of the brand new homes in Fountain Square, those will definitely come at a heftier price. Many of these new construction homes are very unique, and this is indeed one of the factors that make Fountain Square unlike any other part of the Indianapolis Metro Area. From the old to the new, this quirky little neighborhood is probably the most unique on our walkable list!
Looking to move to Indianapolis or the surrouding Indy Metro area?
Fill out our contact form and we'll connect with you ASAP to get your Indy home buying or selling journey started
4. Meridian Kessler:
Meridian Kessler is a well established, stunning historic neighborhood of Indianapolis, with plenty of walkability. This neighborhood is also the most mature on our list, with many of its residents having already raised families and are now enjoying a quieter pace of life. At the time it was built, this area was considered the outskirts of town. It was designed to give residents ample space for large homes away from the city hustle and bustle.
If you have your sights set on your very own piece of Indiana history, worry not; this neighborhood has integrated well into the 21st century. The streets are lined with restaurants, with many dining options. In some places, the original infrastructure of the sidewalks and buildings has been maintained, only adding to the area's vintage charm. You won't find any single main street here.
Instead, there are small pockets throughout this neighborhood corralling groups of shops and restaurants. You might not be able to walk to absolutely everything at once. But if you find a home you like near one of these pockets, you can quickly find a local bar, coffee shop, pizza place and the like.
Homes in Meridian Kessler
As Indianapolis grew around Meridian Kessler, it remains a charming little time capsule full of mature foliage and green space. Each home here is custom built, you will find no "cookie cutter" homes in Meridian Kessler. Take a drive through the historic neighborhoods and you will quickly see each home is different from the rest. From Tudor, to French county, to Victorian homes, there is a little bit of everything.
Almost all of these homes are historic, and have been renovated and well cared for over the last century or more. The result of such care has allowed these beautiful pieces of history to shine with their original splendor, and has kept the homes and lawns from ever getting run down.
5. Chatham Arch and Lockerbie Square:
For the sake of location and similar offerings, we've grouped Chatham Arch and Lockerbie Square together in our final most walkable neighborhood in Indianapolis. Bordering either side of the cultural hub of Massachusetts Avenue, these neighborhoods are humming with life.
One of the most noticeable differences between these two neighborhoods and the previous historic neighborhood we mentioned is the visible age difference of its residents. While Meridian Kessler has a mature and quiet vibe, that is not at all the scene around Mass Ave. You'll find many home owners here in their 20s and 30s, giving it a historic, but young and hip atmosphere. No doubt, the draw of the night clubs, restaurants, bars and other nightlife keeps the young crowd desirous of living within walking distance of the main strip, so likely you won't find many older families residing in this neighborhood any time soon.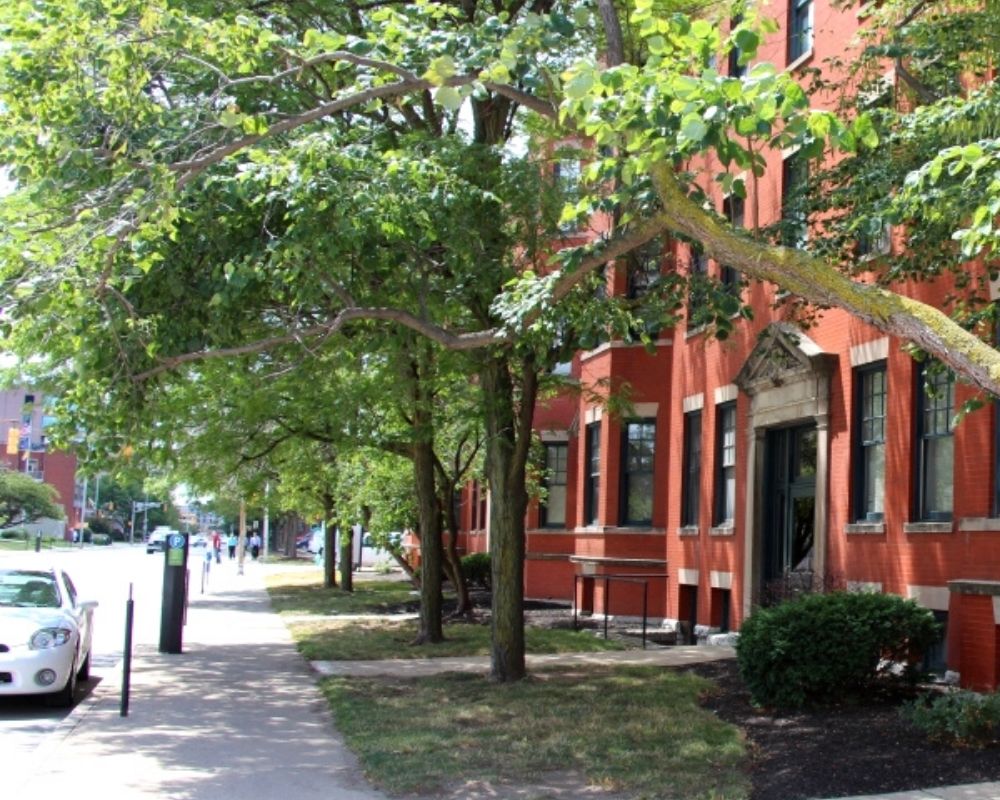 Homes in Chatham Arch and Lockerbie Square
Lockerbie Square is actually the oldest neighborhood in Indianapolis. With as many beautiful, historic homes here as you will find in Meridian Kessler, you can quickly see the upkeep hasn't been as well maintained in this area. The homes are full of character, but many need work and renovations. The same can be said for Chatham Arch, just across the street, but for some reason the homes there tend to be larger.
Thinking of moving to the Indianapolis Metro Area?
If you thought you couldn't live the pedestrian life in the Midwest, think again! These five most walkable neighborhoods in Indianapolis are an excellent place to explore by foot. If you are ready to call one of them home, reach out to me today, I would love to help you find your next home in the Indianapolis Metro Area!