Chatham Arch, Indiana
Neighborhood of Indianapolis
The Neighborhood of Chatham Arch, Indiana
Chatham Arch is an active, historical neighborhood of Indianapolis, located right downtown! Bordered by the Lockerbie Square and Market East neighborhoods, this area of Indianapolis is a great place to move to. It's especially great if you enjoy an active community with plenty to do every week.
The neighborhood of Chatham Arch encompases the Mass Avenue Cultural District. This area is flourishing with incredible restaurants, art galleries and theatres, and lots of retail shopping. It also has access to the Indianapolis Culture Trail and is great for joggers and bikers.
One thing we love about this Indy neighborhood is that it connects the more urban architecture of the Mass Ave area with plenty of open, green spaces for locals to enjoy. Think of it like the transition neighborhood from downtown to more suburban feeling neighborhoods. You'll find plenty of tree-lined streets and aesthetically pleasing brick buildings and alleyways accenting your walk around this neighborhood.
Chatham-Arch is one of Indianapolis's oldest neighborhoods, which makes it a beautiful area filled with historic homes. Most of the neighborhood dates back to the mid-19th century, before the Civil War! This makes it feel like you are walking back in time when you are here; you can get a taste of what it was like when Indianapolis was just beginning to prosper. The area also has plenty of new build homes and apartments to choose from. It's truly a unique neighborhood, where you can historic worker's cottages, duplexes, apartment buildings and larger, luxury homes.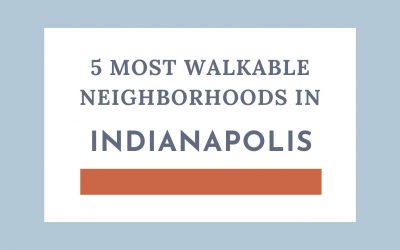 The 5 most walkable neighborhoods in Indianapolis, Indiana – discover the best areas of Indy to explore by foot.
Ready to find your perfect home in Indianapolis??
By clicking 'Submit' I agree to be contacted by the Living in Indianapolis team via call, email, and text. To opt out, you can reply 'stop' at any time or click the unsubscribe link in the emails. Message and data rates may apply.
Information on this website should not be construed as legal advice as we waive all legal liability from readers' reliance of any information provided. Readers must consult their own realtor or attorney about their own real estate issues.
United Real Estate Indianapolis
Licensed in Indiana
RB14042111