Things to know about Downtown Indianapolis
Downtown Indianapolis – the center of all the action in the Indy area! Like any major US city, you'll find that downtown Indy is the central business district and is home to multiple sporting venues and cultural hotspots.
Things to know about Carmel,IN
Carmel, Indiana is a highly coveted and beautiful neighborhood north of Indianapolis. This suburb of Indy has quickly grown over the past 20 years from a sleepy community to one that is economically growing substantially, and is now one of the most populated areas of the Indianapolis Metro area.
Within the downtown area are six different cultural districts that have their own unique offerings for things to do and enjoy:
The Wholesale District: This district includes Monument Circle, Circle Centre Mall and plenty of entertainment options. This is also where a lot of Indianapolis's historic buildings are, mixed with fresh, modern skyscrapers. A great place to experience both old and new!
Market East:

Market East is one of downtown Indy's newer districts, which made its debut in the world in only 2014! It's located on the east side of the city and prides itself on sustainable buildings, as well as historic landmarks. There are plenty of public spaces and public parks to enjoy in Market East and it's becoming a great place for Indy foodies.
Mass Ave: Mass Ave is known as Indianapolis's Arts & Theatre District. The avenue has multiple performance venues, as well art galleries and many locally owned restaurants. This district is also home to plenty of rotating outdoor art exhibits, so even a walk along Mass Ave will provide for an exciting afternoon.
Canal & White River State Park: One of the more unique areas of downtown Indianapolis is the Canal and White River State Park. The canal is a great place for anyone who is looking for a beautiful outdoor space. You can jog, bike or take a leisurely stroll down the well maintained paved walkways. Beyond the canal itself, this area is home to many museums, local festivities and sporting events!
Indiana Ave: Tucked between the Canal itself and the White River lies the district of Indiana Ave. This area is a cultural hub, rich in African-American heritage with plenty of restored neighborhoods and buildings.
Fountain Square: the last district of downtown Indianapolis is Fountain Square. Fountain Square is a vibrant neighborhood, with both excellent food options and eclectic shops that you could spend days exploring.
Downtown Indianapolis is an area of Indy that continues to develop with a growing art scene, more and more farm-to-table eateries, unique festivals and outdoor public spaces to enjoy.
Learn about Downtown Indianapolis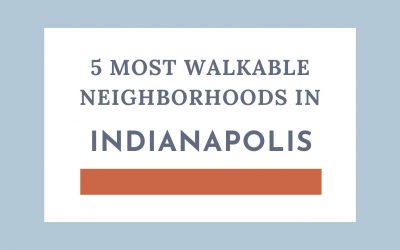 The 5 most walkable neighborhoods in Indianapolis, Indiana – discover the best areas of Indy to explore by foot.
Ready to find your perfect home in Indianapolis??
By clicking 'Submit' I agree to be contacted by the Living in Indianapolis team via call, email, and text. To opt out, you can reply 'stop' at any time or click the unsubscribe link in the emails. Message and data rates may apply.
Information on this website should not be construed as legal advice as we waive all legal liability from readers' reliance of any information provided. Readers must consult their own realtor or attorney about their own real estate issues.
United Real Estate Indianapolis
Licensed in Indiana
RB14042111