Tour of Downtown Carmel Indiana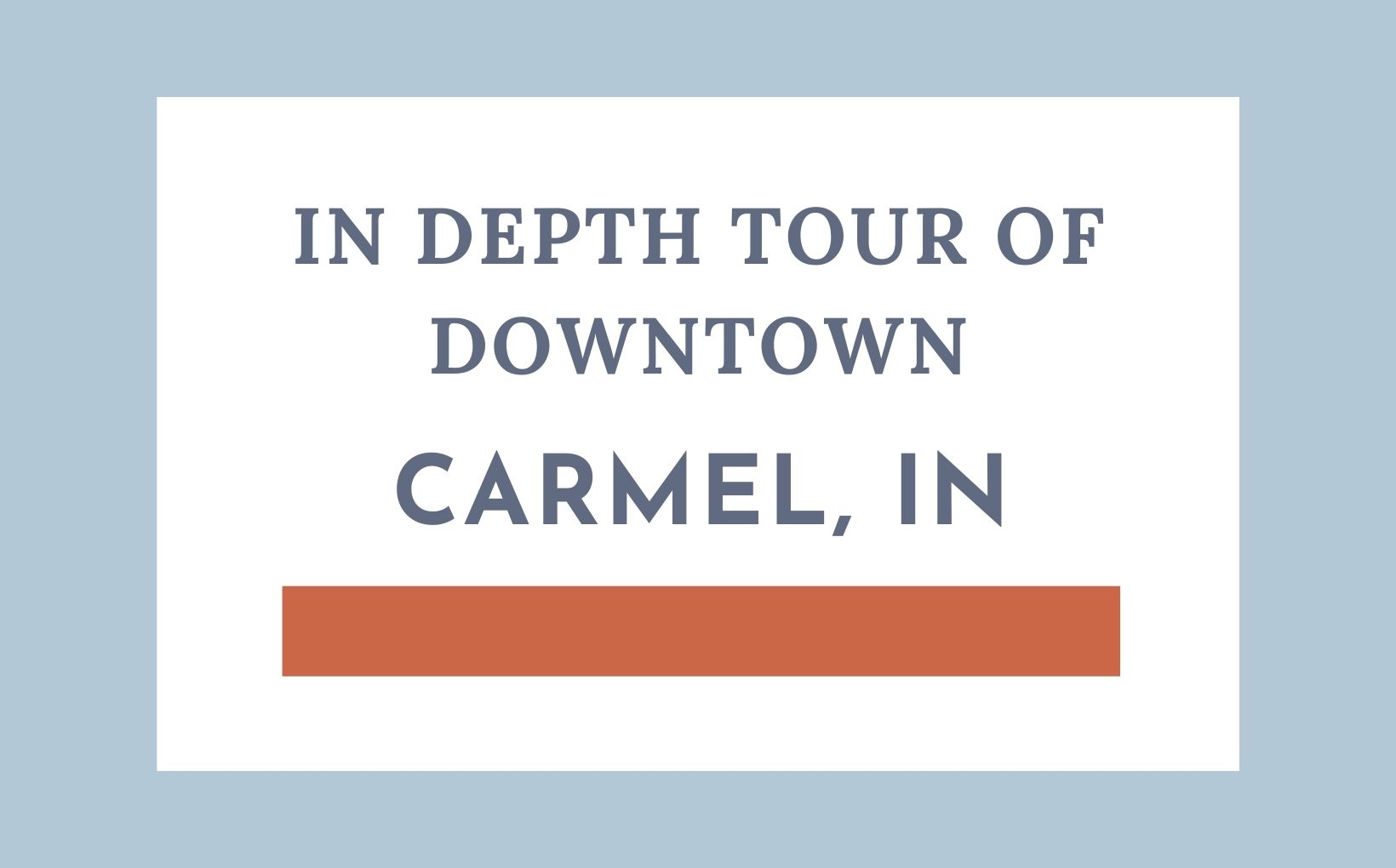 Downtown Carmel, Indiana, also known as The Arts and Design District, is a vibrant, cultural hub. Full of music, entertainment, food, and year round festivities. This area is one of the most popular spots in the Indianapolis suburbs. Whether you are looking for an interesting new dish to try, or an old favorite brew, Downtown Carmel is the perfect place to relax and unwind from city life. One thing is certain, there's something for everyone in The Arts and Design District.
Explore Downtown Carmel, Indiana
Monon Trail:
The Monon Trail is a paved, multipurpose trail that travels all the way from Downtown Indianapolis to Westfield, Indiana. With twenty five miles of paved trail, residents can enjoy many parts of Indianapolis and the northern suburbs; taking it as far as they wish, or just going for a quick bike ride to get a cup of coffee. Because the trail runs right through the Arts and Design District, it provides walkable access to the downtown area, making it both eco-friendly and waistline friendly!
There are plenty of bike racks around the entrances of the trail as well, so bikers can park and head off on foot to find something to eat, grab a drink, or head to a concert or event. If you don't live close to any entrances of the trail, you can find parking areas up and down it in which you can park (you will rarely struggle to find a parking spot here) and then head off on foot or bike.  Walkability was given great consideration in the construction of The Arts and Design District. Designers and contractors wanted the city to not only be accessible to all, but conscious of its vehicle traffic and carbon footprint.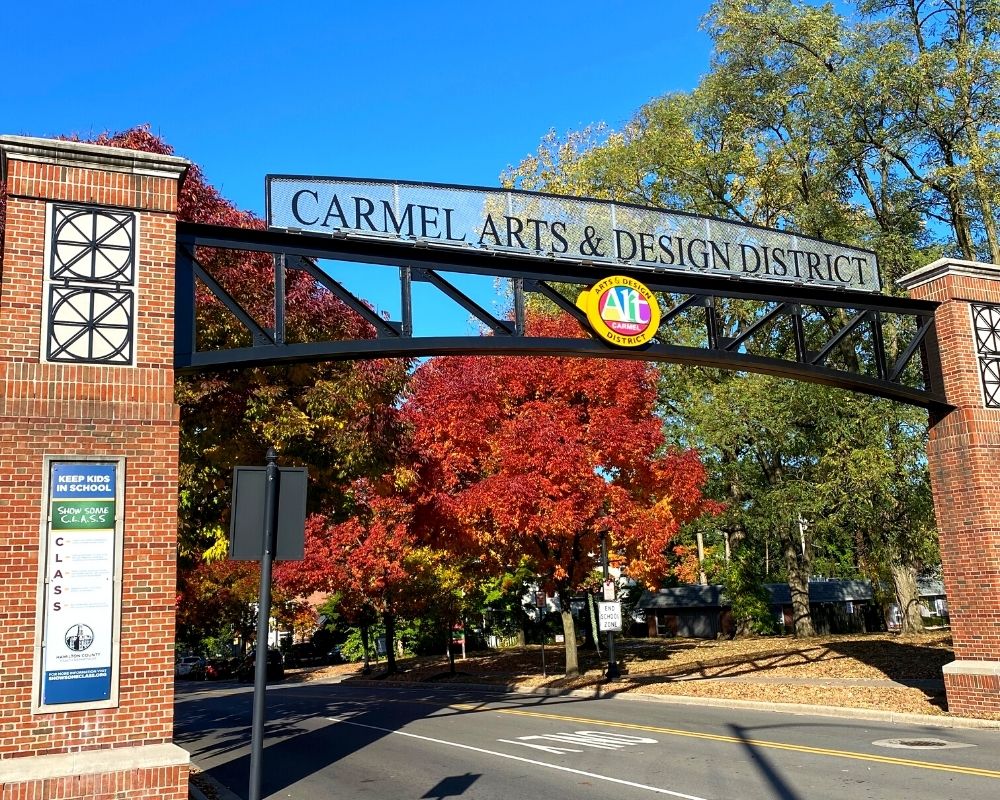 The Heartbeat of Carmel:
Historically, the downtown area of a city is one of the oldest parts of town. Often historic buildings are renovated and put to new use, and original infrastructure is used wherever it can be to keep the bones and history of the city alive. In Downtown Carmel, however; this is not the case.
The Arts and Design District was actually curated by city planners to give the look and feel of that historic downtown environment, because the city had none to begin with. Carmel developed more out of suburban sprawl than an actual town establishment; and that's apparent in the extensive housing and well planned neighborhoods. As the city of Carmel grew (growing all the way to a population of 100,000 people) the downtown area was designed to create a "heart" of the city.
The Arts and Design District was fabricated to cultivate a community environment, where residents could gather to partake in events and lifestyle enrichment. Aptly named, there is a plethora of local art to be found in The Arts and Design District. Galleries and shops all showcase and sell everything from original works, to sculpture, to modern pieces and more.
Visitors see murals and sculptures dotted about the area, making even the mundane beautiful. While the space supports the fine arts, it also provides an aesthetic environment for residents to enjoy themselves, even if they don't consider themselves an art buff up to snuff on everything from Renoir to Pollock.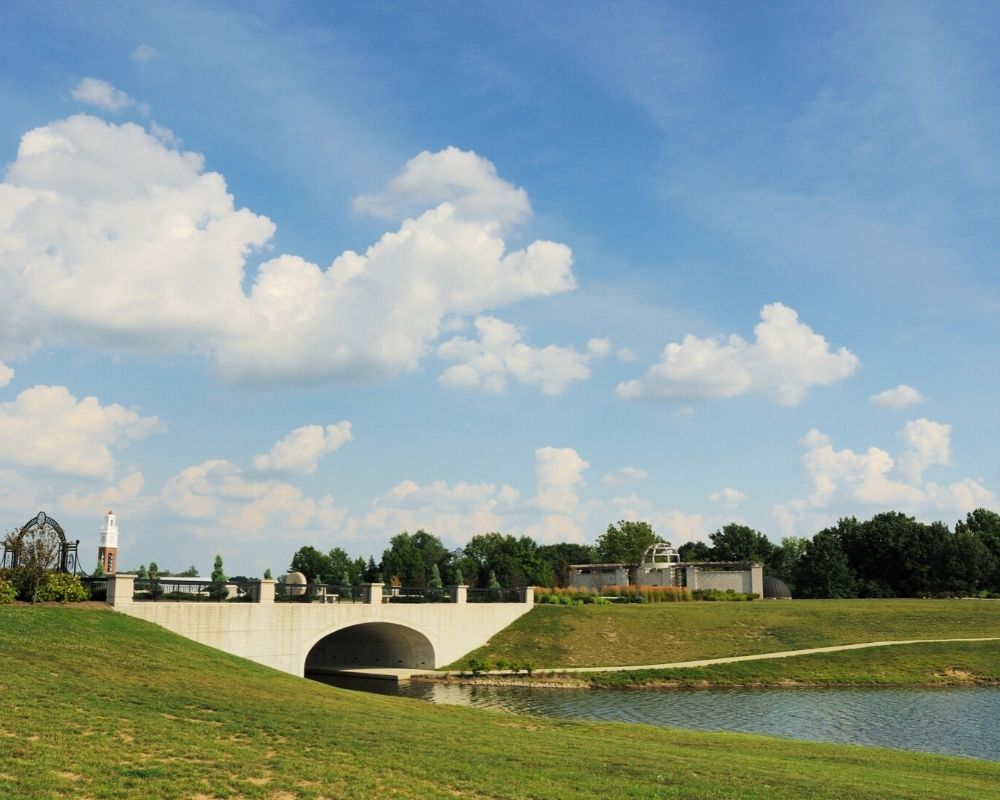 The North Side of The Arts and Design District
The downtown area of Carmel is divided into two distinct areas, the north side and the south side. Eventually the two will meld into one larger area, as construction is constant and they grow closer together all the time. The northern end of The Arts and Design District is home to a great deal of small shops and restaurants. You can find everything from casual burger joints and pizza shops, to upscale eateries, like Anthony's Chop House (for those occasions when only a steak will do!). Since many come to the area by foot or bike, residents enjoy a casual atmosphere that doesn't require getting all dolled up to stop for a bite, and most places offer outdoor dining, weather permitting.
Also close to this area of Carmel is Midtown, a spot replete with action and excitement. Midtown has a small stage where residents can catch local acts throughout the year, and listen to live music while they enjoy fare from any of the nearby restaurants. Movies are screened in Midtown throughout the summer, as well. Families can bring lawn chairs and blankets to spread out on the large green space below to enjoy the film.
If you don't feel like packing a picnic, there is plenty of delicious food nearby! This entire space is designed to be casual and comfortable. There's always somewhere to sit and enjoy the sunshine, or pop into one of the many breweries in the area. Surrounding the north side of The Arts and Design District, you'll see many high end townhomes and apartments. These units sell from anywhere around $500,000 to $1,000,000 on the high end. With the nearby walkable entertainment and great amenities, these beautiful new homes aren't cheap, but they sure are nice!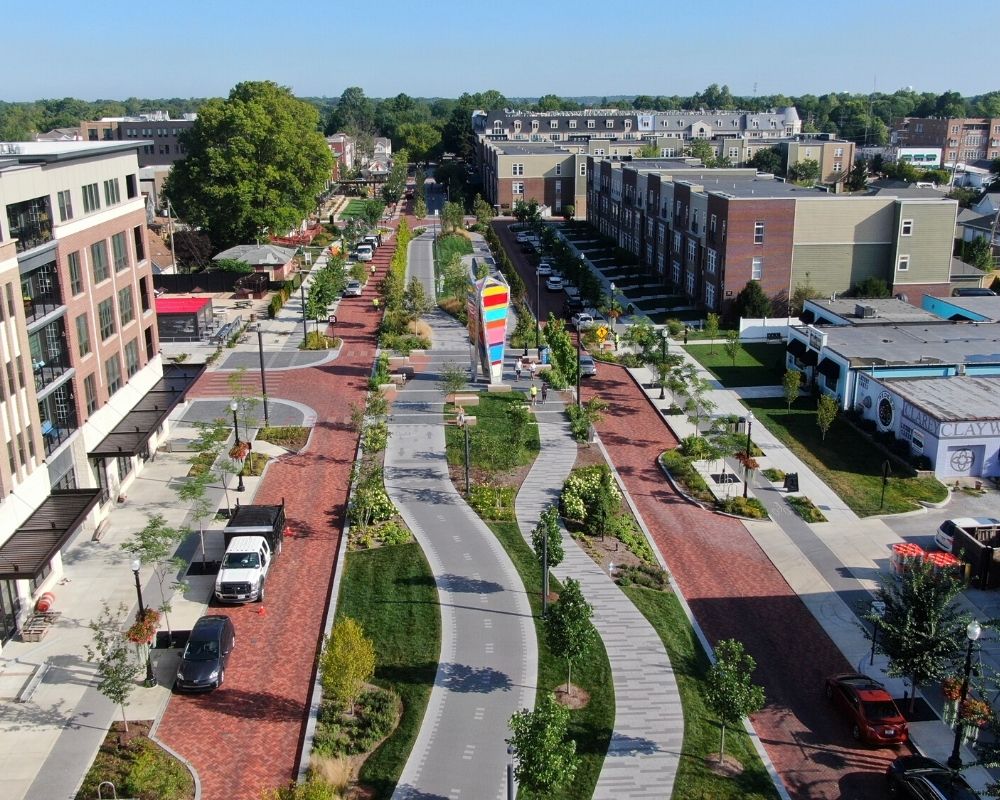 The South Side of The Arts and Design District
As you travel down the Monon Trail from the north end of downtown, you will notice it begins to thin out after Midtown. There are a few vacant and open lots, and the buildings you see here and there tend to be a bit older. This gap between the north and south will eventually be filled in, as land doesn't stay too vacant for too long in this area of Indiana. That being said, there are some very neat things to be found in this small stretch, including bocce ball courts, table tennis, and playgrounds for children. This is a great area for families to get out and about on the weekends and enjoy some nice weather and a beautiful environment.
Just south of Midtown, the Monon Trail runs right past The Palladium. This state of the art venue hosts a variety of performances throughout the year. Patrons can catch everything from orchestral performances, to traveling shows and concerts, and even local music and performances.
Due to the ample parking options, almost all of The Arts and Design District has plenty of places to park; so guests rarely have to worry about driving around for an hour trying to find a parking spot when they come for a show. The southern end of downtown is also home to the Carmel Town Hall, The Carmel Fountain, and The Gazebo, a venue for live music and entertainment throughout the summer.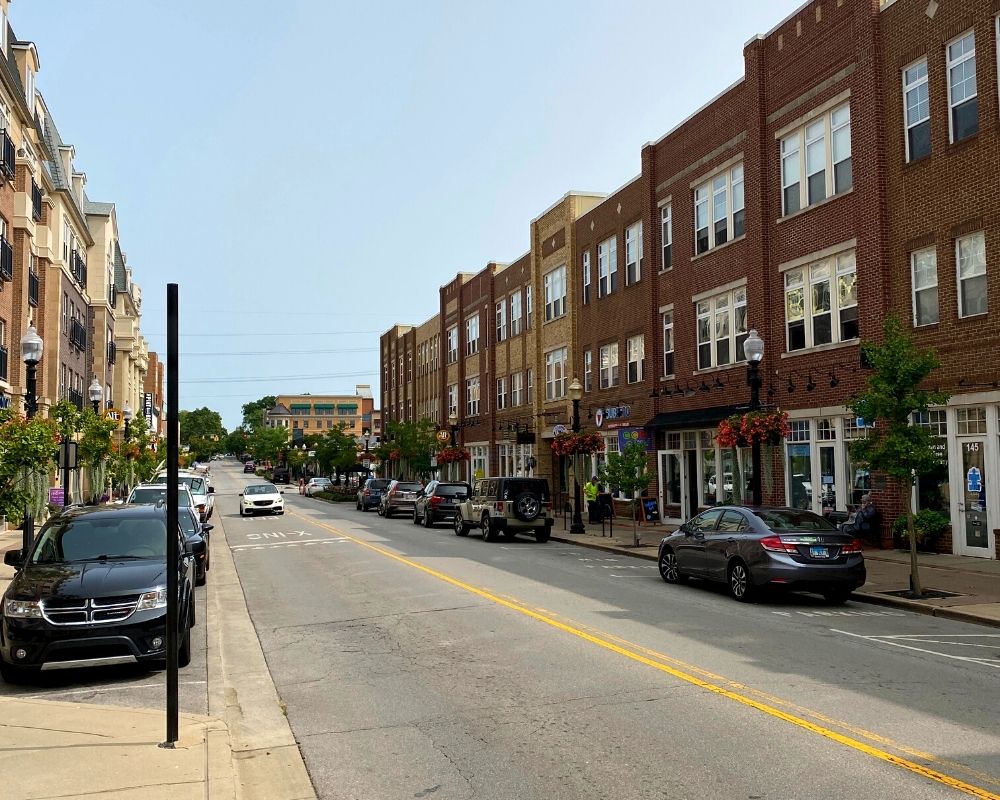 Festivities on The Center Green:
Surrounding the city town hall and The Palladium is a large, manicured green space known as The Center Green. The Center Green hosts a variety of events throughout the year, the two largest being Carmelfest in the summer during July 4th, and The Christkindlmarkt at Christmastime. In the heart of the Indiana summer, locals flock to Carmel from all around the Indy Metro Area to enjoy the patriotic festivities of Carmelfest.
During this Independence Day celebration, organized and hosted by the Rotary Club of Carmel; adults and children alike can enjoy an all American summer, getting face paintings, playing games, and riding carnival rides. Countless food vendors set up throughout the green offering everything from classic 4th of July hot dogs and potato salad, to unique new eats, like "Chick on a Stick," for those interested in skewered, grilled poultry! Fireworks, a parade, and exceptional entertainment can all be found at various times throughout this two day event, so be sure to plan your visit around the things you want to see and do (and eat!)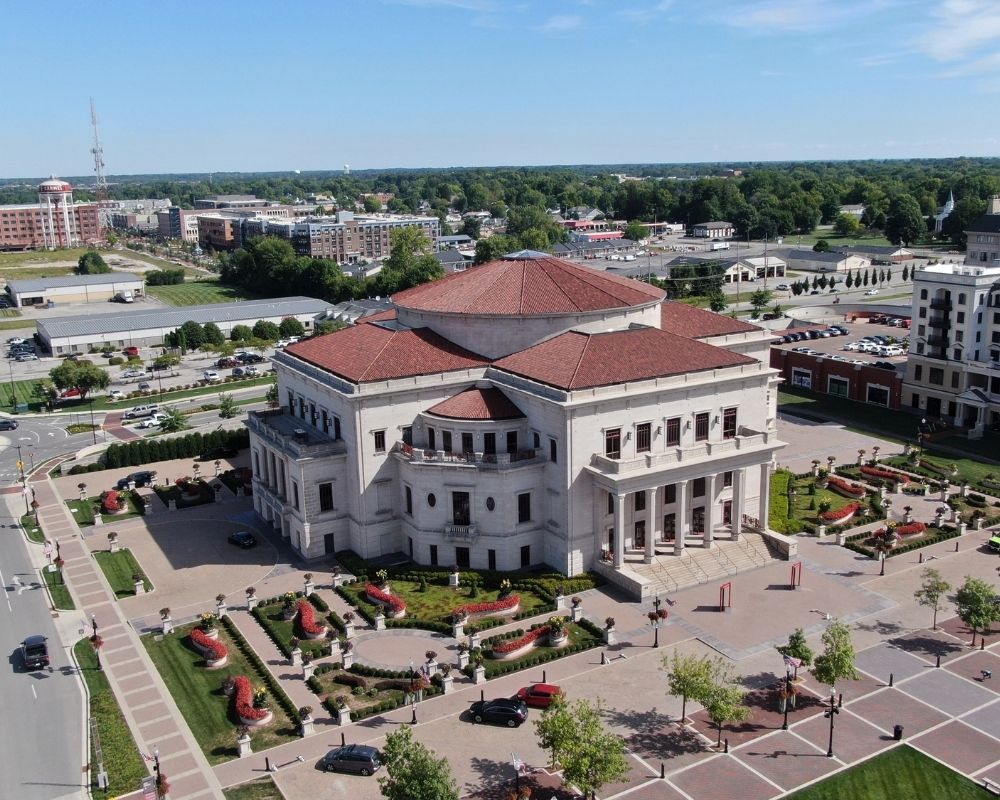 Even when the weather gets chilly, nothing can keep Indy residents from hats and mittens and heading out to enjoy downtown Carmel's Christkindlmarkt. For nearly an entire month during the Christmas season, The Center Green in Carmel, Indiana is transformed into a traditional Bavarian village, complete with German food, drinks, gifts, and even an ice rink!
This beautiful, historic German tradition is truly a sight to see and an experience that can't be missed. As they wander through the village during the festival, guests can purchase handcrafted German gifts, such as nutcrackers and chocolate, and stay warm in the winter weather with a stein (or two!) of Gluhwein. A traditional German Yule beverage, Gluhwein (translated "Glow Wine") is made by mulling wine with German spices like anise, coriander, cinnamon and orange zest. The wine is heated low and slow for hours, making sure it is never boiled, as this would cause the ethanol to evaporate from the drink, and it doesn't provide much "glow" without that part! But the drinks aren't just for the big kids, little ones can enjoy mugs of hot cider or cocoa, perfect to pair with a big German pretzel! "Prost, und frohe Weinachten!"
Thinking of moving to Carmel, Indiana?
Thinking of making this cultural playground a place to call home? Reach out to me today, I love helping people find the perfect place for their family in the Indy Metro Area!