3 Reasons why Carmel Indiana is the most popular Indy suburb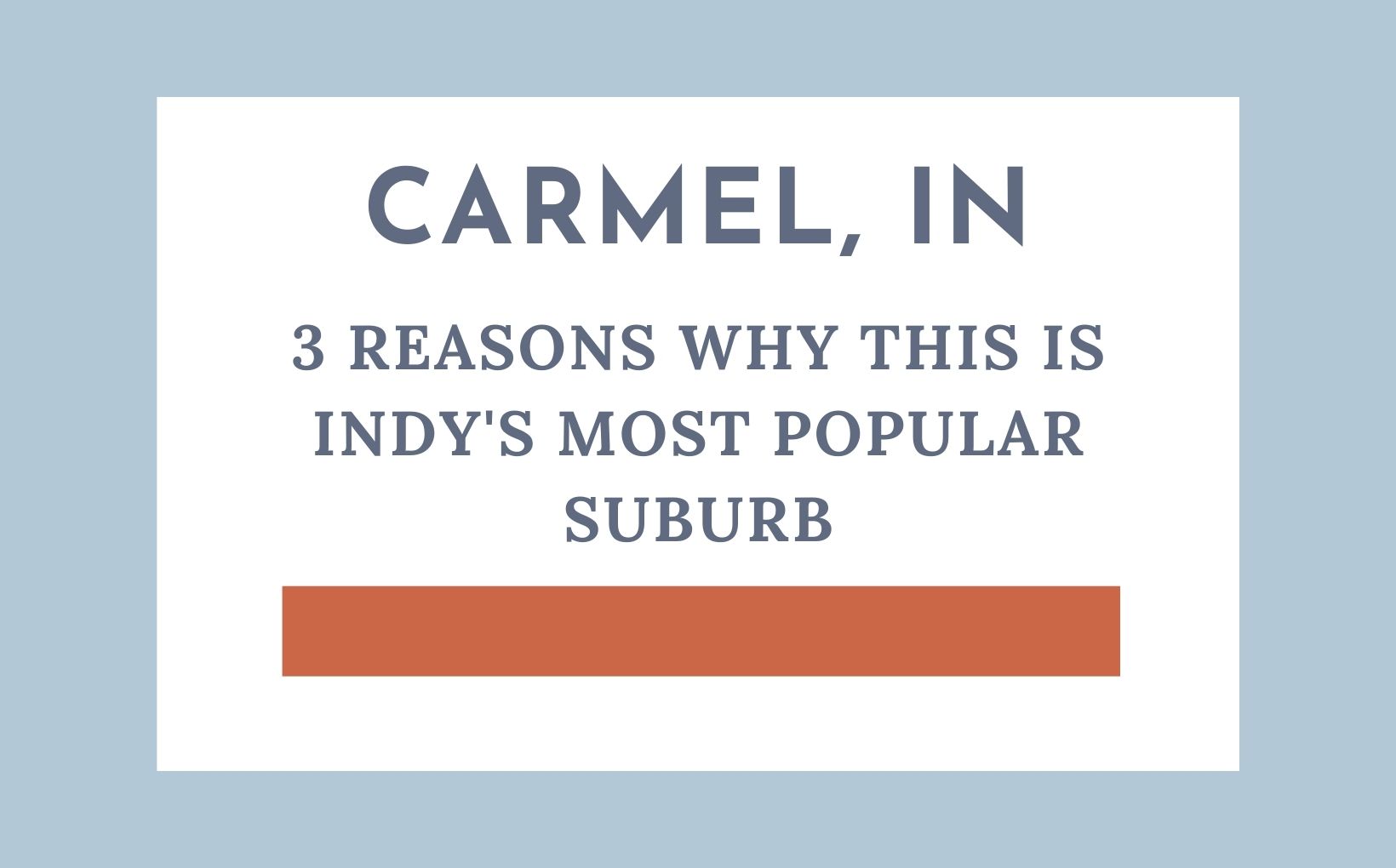 Carmel Indiana, has been ranked the number one place to live in the United States.  Publications such as Insider Magazine, Town and Country Magazine, and Money Magazine (to name a few), have all touted this suburb of Indianapolis as the best place to live, work, and raise a family. Pretty impressive for a town in a flyover state!  So what makes Carmel such an amazing place to live, so much so that it is nationally recognized? A few things play into Carmel's popularity, so let's look at the three main reasons Carmel is the most popular Indianapolis suburb.
Three main reasons Carmel is the most popular Indianapolis suburb
1. Carmel has excellent schools.
Carmel has one of the best school systems in the Midwest. Carmel High School has just about 5,000 students attending the school, making it the biggest school in Indiana. Its size, however, is what makes its ratings so exceptional. A school as large as Carmel High is competing with schools with a much smaller student population. Teachers at smaller schools generally have a better ability to work one-on-one with students, boosting homework and test scores.
Too often in big schools, students who may struggle (whether that is academically, socially, or otherwise) can fall through the cracks when the attention of teachers is divided in so many directions. Carmel is by no means a small town. With a population of about 98,000, and only one high school. Because of this, for some of the students living on the outskirts of town, getting to school can be a bit of a haul.
While a large school absolutely has some disadvantages (like the lack of individualized attention, and the competitive nature of a larger pool of students), Carmel High gets a huge advantage by nature of being the only high school: Tax dollars. With just one high school in Carmel, all the money for the school systems gets funneled to one place.
This means all of the students here benefit equally. Of course there are multiple feeder schools for elementary and middle school education in Carmel, but the tax dollars are usually divided equally among the sector of education (for instance, 1/3 goes to elementary schools, 1/3 to middle schools, and 1/3 to secondary schools).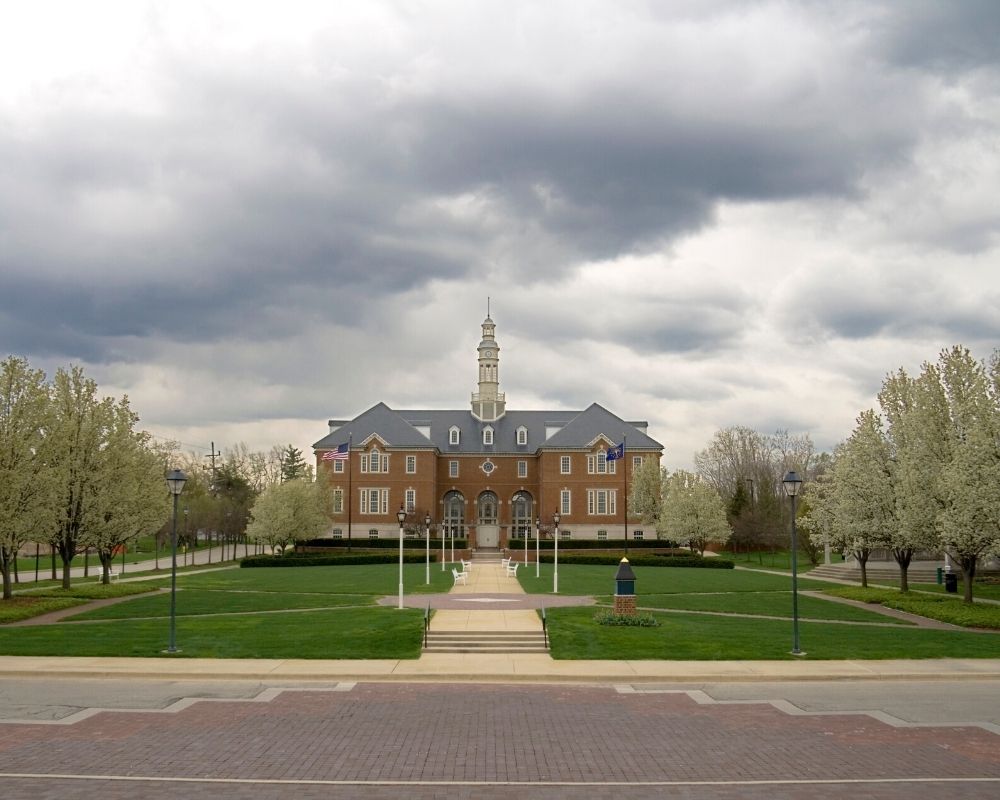 With Carmel High School monopolizing this sector, the students benefit greatly. The arts classes have a plethora of mediums for students to get creative and experiment with. Carmel High has an excellent music program, with nice instruments for students to play, and a nationally renowned show choir. The sports teams get great equipment and, and the gyms and other athletic facilities are well maintained. Each student can cultivate their high school experience to suit their interests, and the well rounded education benefits all.
*Though the public school system might only have a couple options, there are private schools in Carmel as well. If a big school just isn't the fit for you, or you want your child to attend a parochial school, there are exceptional options in Carmel for a private education as well as public.
2. Carmel is an aesthetic environment.
There's no way around it, so we'll just say it outright. There is a lot of money in Carmel, and everybody knows it. It's been voted as one of the wealthiest places in the entire country, and keep in mind it's competing with places like Beverly Hills, Manhattan, and The Hamptons. True, not everyone in Carmel has a ten car garage full of Lamborghinis, but the general population in this suburb sports a hefty bank account. The average household income in Carmel is around $117,000 a year, more than three times the national average. In Indianapolis, that average is about $55,000, so the average Carmel income is still more than double the average income in the rest of the city.
With such high incomes come an attractive city, with lovely homes and neighborhoods. This also means breaking into the housing market can be difficult. The barrier to entry for buying a home in Carmel is much higher than it would be basically anywhere else in the Indianapolis area. At the very lowest, you might be able to find something for around $300,000 in Carmel, but likely it will be more than that. That same amount of money in other very beautiful parts of Indianapolis could buy a new, spacious home with garage space and a yard.
The money in Carmel is reflected in the neighborhoods and community, and all residents benefit. Sidewalks are well maintained, parks are beautiful, and fountains and local art dot around public spaces, adding to the aesthetic.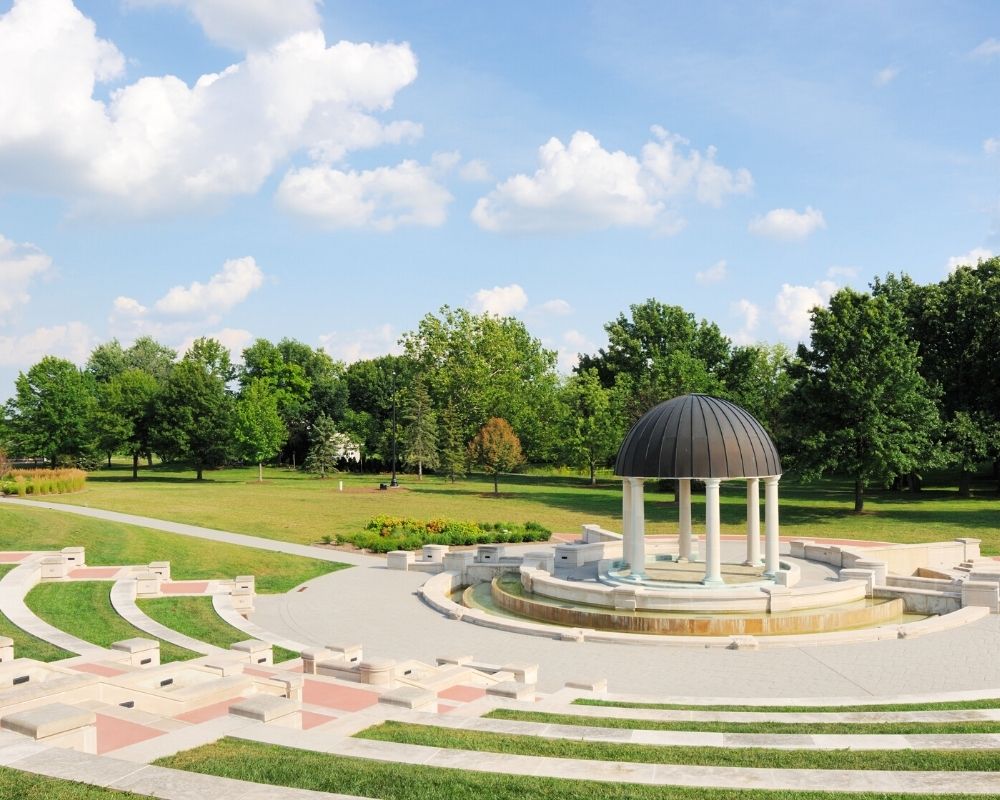 Traffic in Carmel is also well mitigated due to the large number of "roundabouts," or circular intersections; in which cars drive in a circle until they reach their desired exit, as opposed to stopping at a four way stop. Roundabouts not only keep traffic moving, but result in far fewer motor vehicle collisions. Because Carmel is so well established (it isn't a new part of town) the landscaping is mature and beautiful. Lush, large trees and bushes can be seen all over town, giving it a cool, breezy feeling in the summertime, and turning into beautiful amber forests in the fall. Shared spaces, such as Central Park, have wonderful amenities like biking and walking paths, playgrounds, grills, picnic shelters, and nice public restrooms.
The tax dollars of Carmel residents are undoubtedly put to good use when it comes to enhancing the lives of residents.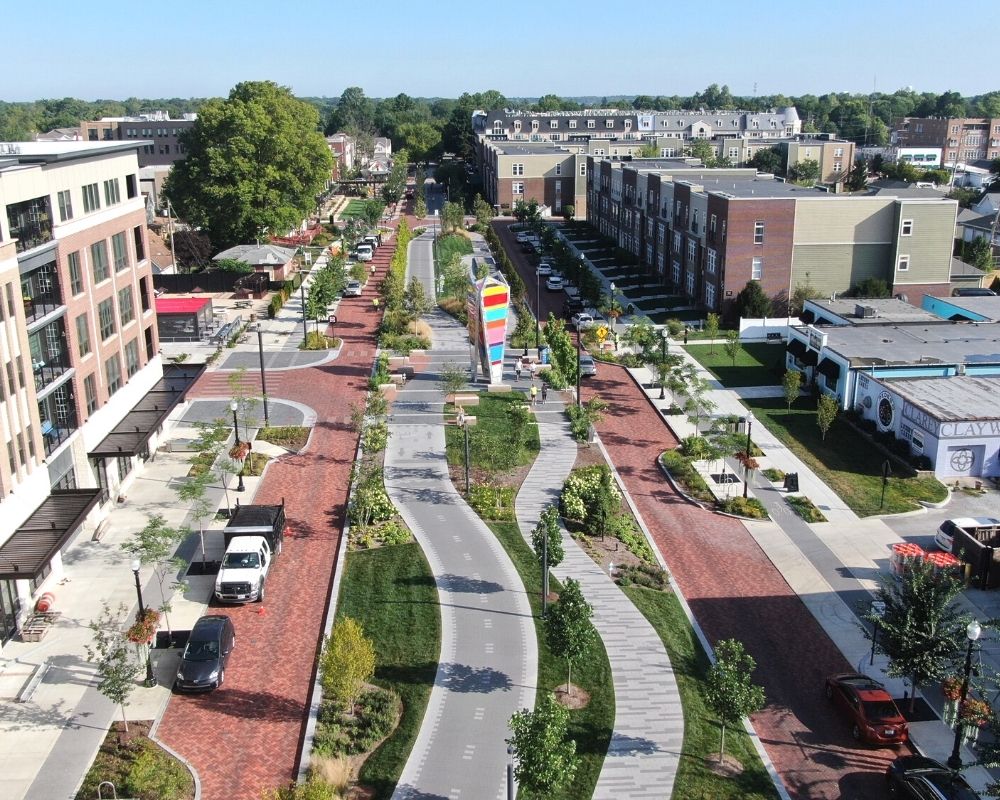 3. There is so much to do in Carmel Indiana
With so much money being poured into city enrichment, there is a LOT to do in Carmel! Residents can get out and about in the parks, and enjoy the beautiful weather when spring rolls around. Children can don a swimsuit and hit the waterpark at the Monon Community Center when the summers get hot.
The Arts and Design District, Carmel's downtown area; has done an excellent job of cultivating a cozy but chic area for people to drink, dine, and mingle. In the summer there are outdoor concerts held here, and throughout the year you can find various festivals and other fun activities that just promote getting out of the house and walking around a bit. A huge effort has been made in Carmel to provide year round community activities so people living here can enjoy themselves and the sense of community.
For those who love the arts, The Center for Performing Arts, and The Palladium host performers and shows all year long. Guests can catch concerts and performances of world renowned artists, or enjoy local artists putting on a show. The performing arts center also offers intro to acting and improv classes, as well as conferences and chances to see speakers from around the world.
During the summer, locals can hit the Carmel Farmers Market for fresh produce and hand crafted goods. Unlike most towns, the local vendor goodness doesn't end when the fall rolls around, because Carmel also hosts a Winter Market from November through March. Fruit and produce from nearby family owned farms can be purchased here, allowing everybody the opportunity to indulge in the agricultural wealth of the Hoosier State.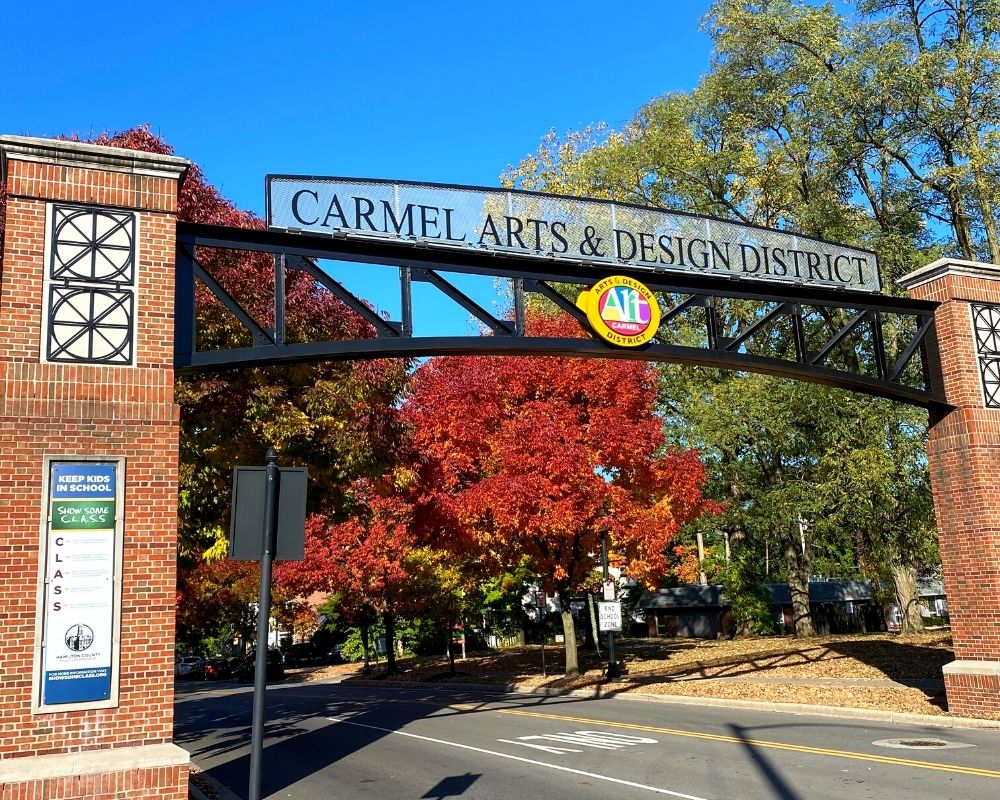 Weaving throughout the city, and right through The Arts and Design District, is more than 25 miles of paved multipurpose trail called The Monon Trail. The trail is a perfect way for residents to get out and about and bike, walk, run, or power walk that stroller on a sunny day. Running through the downtown area, the Monon Trail provides a great way for people to get some exercise, and take a quick break to grab a beer and a bite to eat at one of the many bars and eateries downtown.
Speaking of grabbing a brew, Carmel has plenty of charming wineries and breweries in the area, so there is always the opportunity to try a new local brew and support small businesses.
If the outdoor enthusiast is looking for something a little more hardcore, there is a great rock climbing gym in Carmel, Hoosier Heights. Climbers can work on that finger strength in the bouldering sections, or get after those heights with the top rope and lead climbing. Even the kiddos can get involved with lessons, lock-ins, and hosted parties (and kids under 5 climb free!) Those looking for yoga, pilates, CrossFit, and just about any other kind of gym can find those in Carmel as well.
There are plenty of ways to stay active and fit in Carmel, even though central Indiana is known for brutally long and cold winters. After all, what sounds better on a cold, blowy winter's day than some hot yoga, maybe followed by hot chocolate? Probably….definitely….yes.
Thinking of moving to Carmel, Indiana?
If beautiful Carmel sounds like a place you'd like to call home, reach out to me.  I would love to help you find your perfect home in Carmel, or anywhere else in the Indy Metro Area!