Pros & Cons of Living in Zionsville, Indiana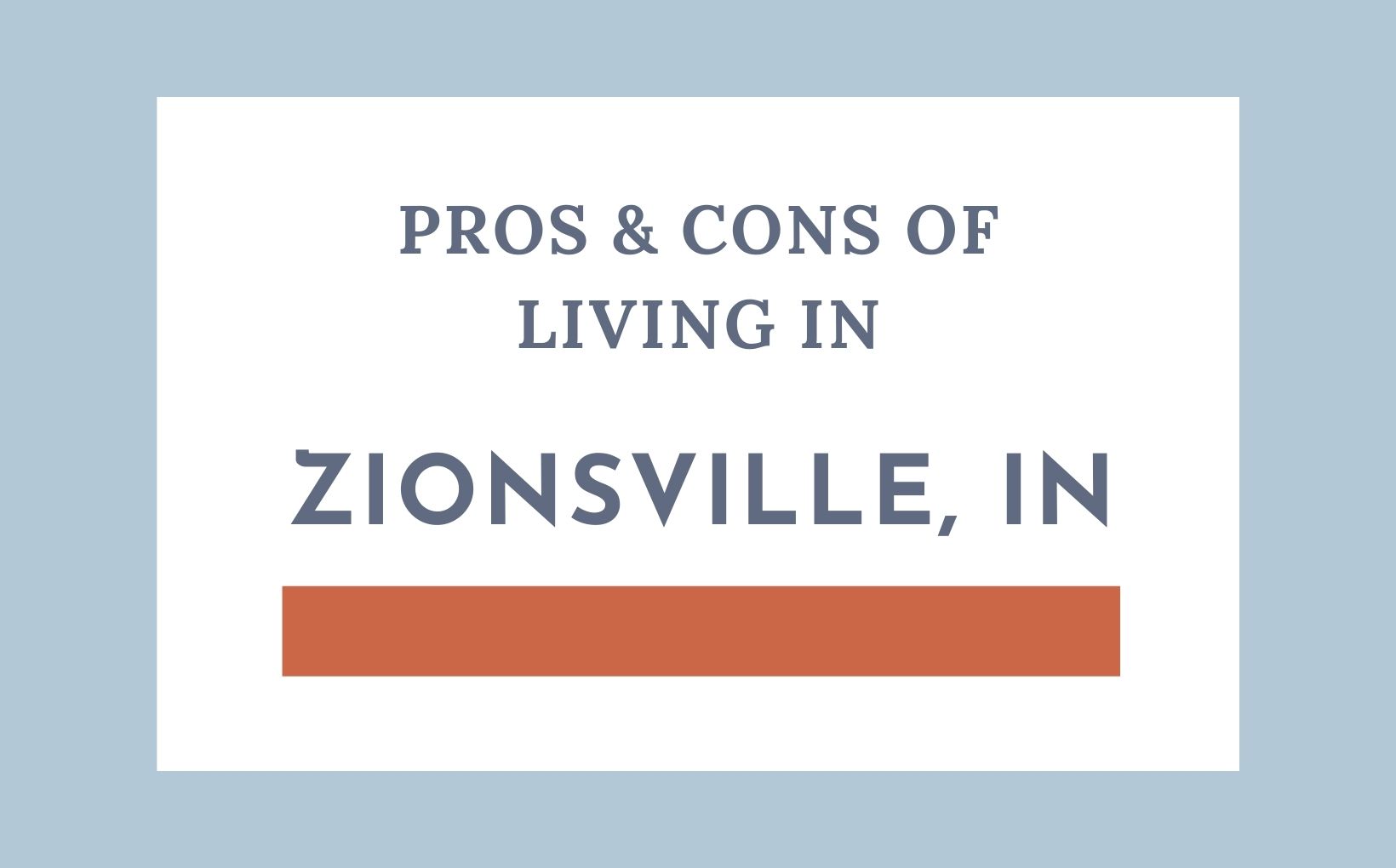 With a population of just under 29,000 people, Zionsville, Indiana might seem like a small town. Almost thirty thousand people living in one place isn't necessarily small, but it is one of the smaller northern Indianapolis suburbs. Compared to neighboring suburbs Carmel and Fishers, both of which have populations in the 90,000, Zionsville is pretty low key. Perhaps that's part of the sleepy charm of this aesthetic little suburb. Let's look at some of the pros and cons of living in Zionsville, Indiana.
Pros of living in Zionsville, Indiana
The Quality of Life in Zionsville:
The beauty of this city speaks for itself, and it's saying "Life here is wonderful!" Zionsville neighborhoods are clean, and yards are full of luscious, mature greenery. Many homes in Zionsville are historic, as the area has been around quite some time. There are still charming brick streets and Victorian homes dotted about town. You can instantly feel the difference upon driving into the Zionsville city limits.  This town has a certain calmness and separation from fast city life. The small town aura is palpable. It invites you to slow down, and smell the roses in those perfectly manicured yards. You'll definitely enjoy a slower pace in Zionsville, but never be too far from the action.
Zionsville has great schools:
According to niche.com (a reputable national school rating website,) the Zionsville school system receives an A+ for overall excellence. Ratings are calculated by the use of certain variables that make up the education system, such as: test scores, extracurricular activities, diversity, staff and more. Zionsville actually ranks as one of the best school systems in the entire state of Indiana.
One of the best things about Zionsville High School is its student population. Only about 2,000 students attend the school each year, giving an ample teacher-to-student ratio. The schools in neighboring Carmel and Fishers are extremely large. Carmel High School in particular is known for being tremendously competitive.
A place like Zionsville High School can provide great opportunities for students to be involved in sports teams, choir, band, clubs and other activities without having the constant stress of fighting for their chance to be there. Statistically, students who are active in extracurricular activities are happier, make better grades, have better opportunities for getting into college, and enjoy an overall sense of belonging.
 *Important Note: If you don't have kids you might be skimming over this part, but don't! Good schools benefit the entire community. With desirable schools come more valuable homes and properties, better public amenities, and overall community wellness. So remember, even if you aren't using the school system in Zionsville, it's still assuring the area remains a great place to live!
Zionsville is Very Safe:
Generally speaking, the further you get from the most populated part of the city, the lower crime rates get. Zionsville hits that perfect sweet spot of being away from the city just enough to decrease violent and property crimes, but doesn't become so remote that people feel unsafe due to their isolation. Nearly all the neighborhood and parks are very safe at any time of the day. And you'd be hard pressed to find a part of town with a reputation for crime. Whether you have a family, or live alone, everybody enjoys living in a place where they feel safe both in their home and out in the community.
Cons of living in Zionsville, Indiana
The High Cost of Living:
Riding on the coattails of our last pro, we lead into an inevitable con to living in Zionsville Indiana. Very safe areas also tend to be very expensive, and Zionsville is no exception. Zionsville actually has the highest cost of living of any place in the Indy Metro Area. We aren't just talking about the neighborhoods with exorbitant price tags, either. Anywhere you go in Zionsville, if you want to be living within the city limits, it's expensive.  It's very difficult to break into this suburb under $500,000, and that would be finding a pretty lucky spot.
The demand to live in Zionsville is only growing, so homes that are more affordable than others get snatched lightning fast. If you're looking for a home to buy, and you have $300,000, you can find a nice home in many other suburbs of the Indianapolis area. Areas like Fishers, Westfield, Noblesville, and even parts of Carmel will have beautiful homes in this price range. If that sounds more like your budget, you might find yourself priced out of Zionsville, no matter how much you wanted to live there.
The Affluent Reputation:
Like it or not, Zionsville has a reputation for being affluent and exclusive. Perhaps this isn't a con to you at all, depending on how concerned you are with the perception of your neighborhood. It comes as no surprise with the high price tags on the homes here and the higher than average cost of living. It is seemingly clear to those who live outside of Zionsville (and honestly, those within the city too) that if you choose to live in this suburb, you can afford it, and embrace its exclusivity. 
No one is villainizing anyone for having the money to afford a nice home, but the concept of a neighborhood that only caters to the rich is becoming a more and more volatile topic. With the current state of affairs in our highly divided country, many are banishing the idea of exclusion and lack of diversity. Blanket generalizations shouldn't be made about any group of people, regardless of where they choose to live, but the stigma around Zionsville is real and those contemplating moving there should be aware of it.
Zionsville's Location (Lack of Accessibility):
Most of the suburbs around Indianapolis are pretty easy to get to, but not Zionsville. It has a sort of "out there all on its own" location that makes it honestly, not close to anything. Not only is it out of the way, maneuvering within the town itself can prove difficult. Getting from one side of town to another can take awhile because there aren't too many options when it comes to routes. If you work in Carmel, (and due to its "Hospital Row" a lot of healthcare professionals commute into town) there are very few ways to get across Zionsville and into Carmel.
Eagle Creek is a large north/south thoroughfare in Zionsville, but the small roads that extend from it along the way allowing drivers to get anywhere on the east/west grid leave a lot to be desired. There are few options to choose from, and during heavy traffic times they're already full of other drivers trying to use them as well. It's clear that the traffic infrastructure in Zionsville needs a serious upgrade.
In regards to commuting to and from Indianapolis from Zionsville, it's a little bit easier. Highway 421 runs directly from Indy towards Zionsville, though it just skims the eastern border of town on its way north. This highway is extremely busy and if you have to travel during the busiest hours of the day, you can count on sitting in some traffic. If you want to live in Zionsville because you've heard the traffic isn't as bad as some of the bigger suburbs (which is true) just make sure you think about what your drive will actually be like and the places around Indy that you will frequent. If you are only driving the kids to school near your home and you work nearby as well, this might not be too big of an issue for you.
Lack of Diversity:
The diversity in Indianapolis varies greatly. As a large metropolitan city, Indy attracts people from all over the world of all walks of life. This isn't necessarily true about all of the suburbs, however; and it's never more apparent than in Zionsville. A prime example is the niche.com rating system we mentioned previously. With a report card of straight A's in every other category, Zionsville scores a C+ in the Diversity category. The lack of diversity in the school system alone is exceedingly clear.
The diversity of a community is particularly important if you have school aged children. As we become adults and find our professional niches, we tend to surround ourselves with people like ourselves, whether intentional or not. But children have no exposure to anything other than the small world they grow up in, and their opinions and views are shaped earlier than you might imagine. Without exposure to other cultures, social classes, and people who look different than them, children can fail to develop valuable skills needed later in life. Going to school with, playing with, and growing up with a diverse group of peers is highly beneficial for children, and in Zionsville you will find very little of that.
Thinking of moving to the Indianapolis Metro Area?
With all of its pros and cons, Zionsville is an excellent place in the Indianapolis Metro Area to call home! If you're thinking of moving there, or anywhere else in the Indy area, reach out to me! I would love to help you make Indianapolis your new home today!