Fishers Indianapolis: 3 reasons this suburb is a great place to live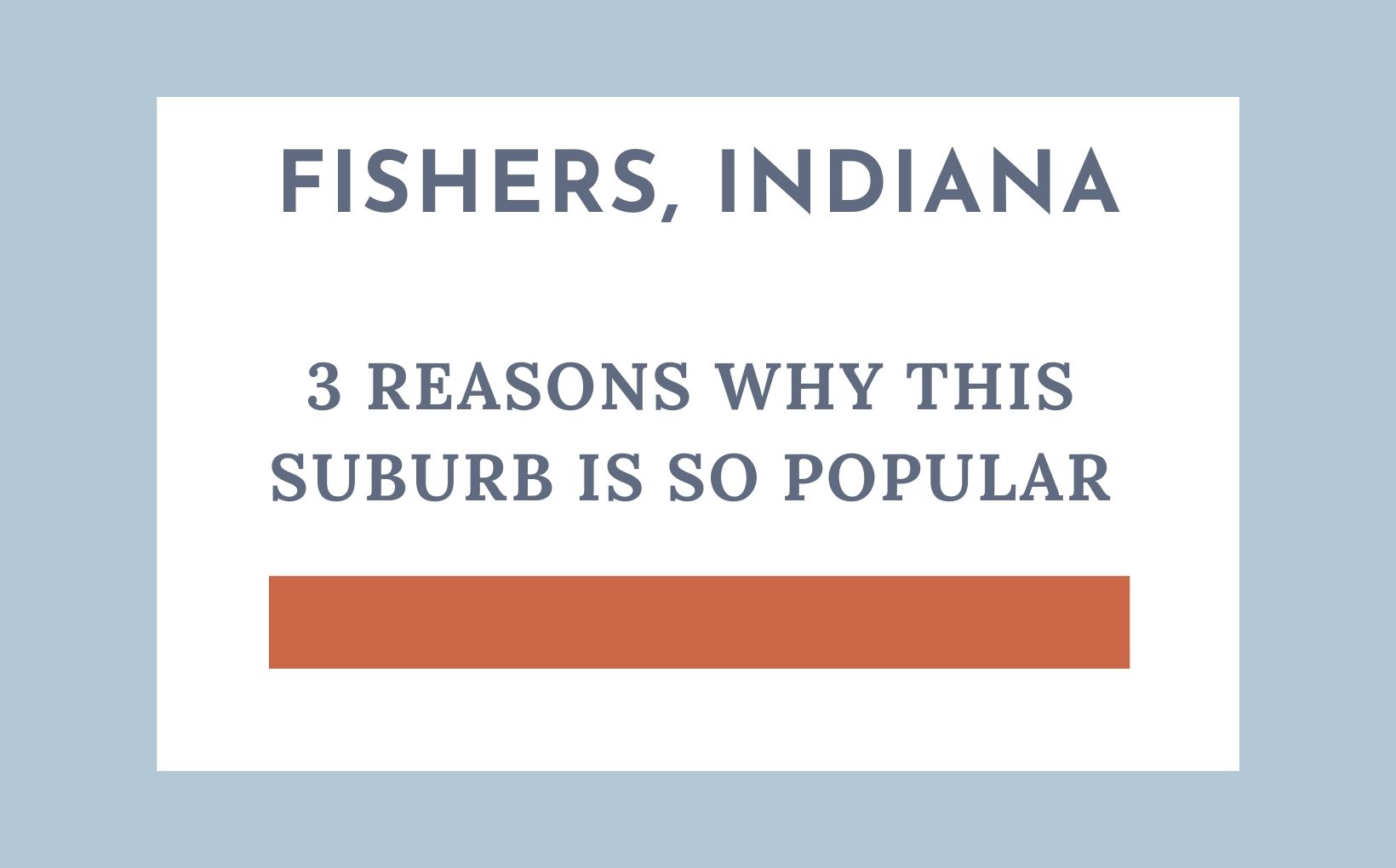 A suburb of Indianapolis; Fishers Indiana has become one of the fastest growing communities in America. Unlike many of the Indy suburbs, Fishers is actually its own city, with a mayor, its own local legislators, and a population of over 95,000 people. And it's not just well known among Indiana residents, either.
In 2017, Money Magazine rated it the number one places to live in the United States. The best place to live in the whole country?! 
Why is Fishers, Indiana a great place live?
What is it about Fishers that makes so many people want to live here, and what keeps this city growing by the thousands every year? Let's look at three of the reasons why Fishers Indiana is so popular.
Why Fishers Indiana is a great place to live
#1 Affordability of Living in Fishers IN
Fishers, Indiana has historically been an extremely affordable place to live. Perhaps due to its economic nature, it's grown rapidly in the last fifty years or so. In just the last decade, Fishers has gone from a population of 77,000 people, to nearing 100,000 people today.
It's clear that something is undeniably driving people to Fishers.
The Midwestern cost of living is generally below average, and the homes in Fishers have traditionally given buyers a lot for their dollar. So perhaps the affordability is the siren song luring these new residents here.
Unfortunately, as the town grows rapidly these costs are going up, and unless you're ready to pay around $350K for a home, you might struggle to find something here. If you're willing to climb even just a little bit higher in price, you can easily get a lot of home, for even just $100,000 dollars or so more.
For instance, for $500k, you can readily find a 4,000 square foot home with four to five bedrooms, and a finished basement.  While you might consider $500,000 to be a lot of money (and we aren't saying it isn't) you can still get SO MUCH home and yard for that price. Take into consideration that in other large cities, like Chicago, Los Angeles, or Seattle, you could scarcely even buy a home for that, let alone a spacious one with room for a family to grow in.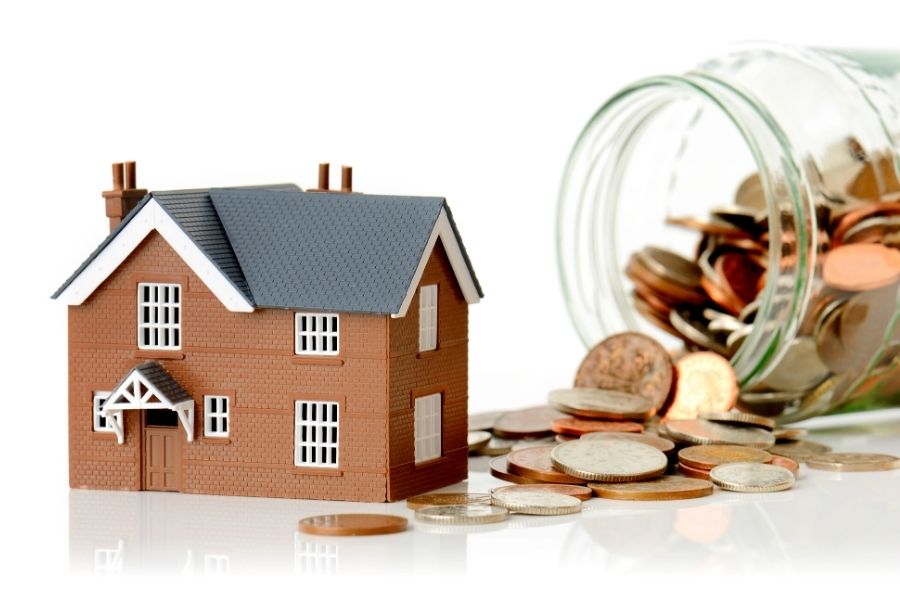 I 's true that housing prices in Fishers, Indiana are on the rise. In the perhaps even near future, Fishers might not be considered so "affordable," but for now, you can your money's worth for a home here, and what you can get is of high quality with lasting market value. Let's not forget the upside of a rising housing market….a home you bought for less will someday sell for more, and a profitable investment is always a good thing! 
Another factor that keeps Fishers affordable is the property tax rate. Property taxes are very low in Fishers, sometimes even half as much as the surrounding areas. If you can be decreasing your property taxes by 50% moving to Fishers from elsewhere, it's absolutely worth considering. 
#2 Schools in Fishers
Housing is great, but if you're looking for a big home, chances are you have kids, and they need a place to go to school! In Fishers, you'll be in luck, because the Hamilton Southeastern school district is inarguably phenomenal. There are only two high schools in Fishers; which had been one school up until 2006, at which time they split up the school. The two formed Hamilton Southeastern High School, and Fishers High School. Both schools have over 3,000 students, and both are annually rated within the top ten schools in the state This is an impressive feat for a school of that size with that many students.
Considering there are schools with less than 300 students competing for these coveted spots, it's even more remarkable. Smaller schools have more students who are getting undivided time with teachers in the classroom, making them tough to beat when it comes to ratings. Large schools usually have less ability for individualized focus on each student. But the academic excellence shows through in test results in Fishers schools.
If you want to live on the northside of Indianapolis but not specifically in Fishers, many of the schools are great in the area, including those in Carmel, Zionsville, Westfield and Noblesville.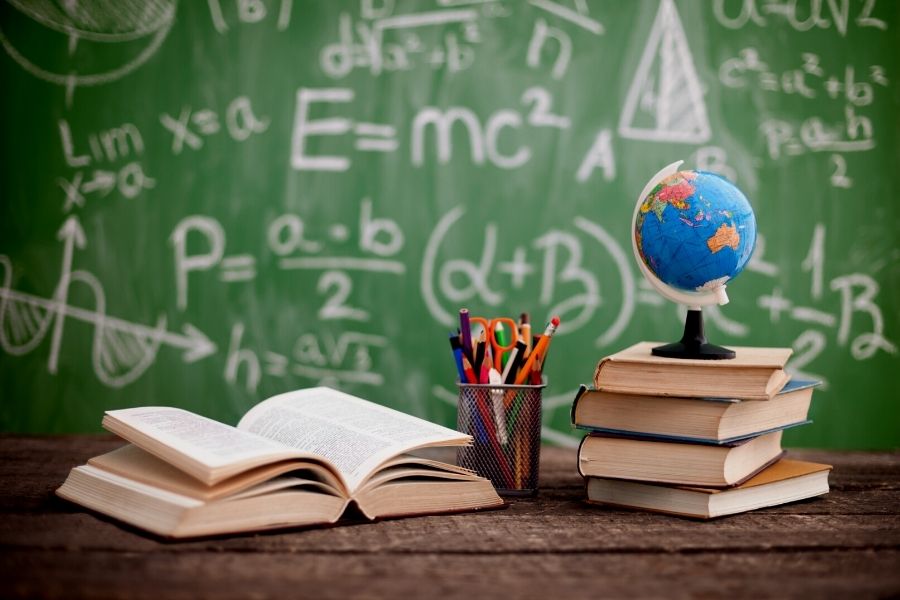 #3 A strong economy has created tons of things to do in Fishers
The population explosion in Fishers has provided fodder for a thriving economy. More people need more jobs, and more jobs mean more restaurants, movie theaters, construction and more. Not only has the creation of jobs been great for the community, but these jobs service plenty of fun things to do.
There are more than 24 parks in Fishers alone, each of them offering something different; from fun jungle gyms to paved and lighted walking paths. Beautiful Holland Park sports a huge playground and splash pad for children to enjoy, soccer fields, baseball fields, and even sand volleyball courts.  If you aren't there to climb on the monkey bars or spike a volleyball, you can still enjoy the aesthetic, wooded grounds that are perfect for picnics or throwing up a hammock and relaxing.
If you're interested in a more organic experience, Flat Fork Creek Park is highly wooded, with tree houses dotted among the foliage. If you visit, keep your eyes peeled for the Tulip Poplar, the state tree of Indiana. Within the park you can hike to the highest point in Hamilton County to take in the sights, or when there's snow on the ground, take the sled for a spin!
If you want to get out on the water, Fishers shares a part of Geist Reservoir, so grab the sunscreen and make a day of it. The access to this massive water feature makes Fishers particularly unique in comparison to areas like Carmel, which are more or less landlocked. Boat owners can enjoy boating, jet skiing, water skiing, and all around summer fun when it gets nice and hot in July, and you need to beat the heat! Surrounding Geist Reservoir are plenty of places to eat or relax with a beverage after a day on the water, making it a perfect all around entertainment spot.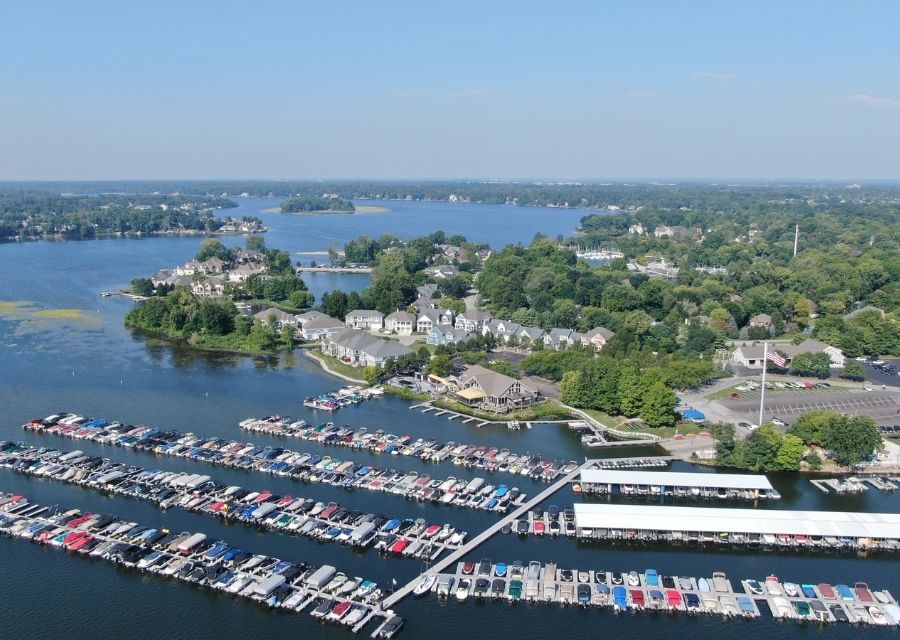 Conner Prairie
Are you curious what Indiana might have been like about two hundred years ago? You can experience the life of the settlers at Conner Prairie.  The area was once the property of 19th century settler William Conner, but the land now hosts a living history museum.
On the grounds you can explore the village, meet settlers in period costumes, and soak up a plethora of information on Indiana history. Conner Prairie isn't just a place where you can experience the past; visitors can enjoy a hot air balloon ride almost all year round, weather permitting. There's no better view of the heartland than from the basket of a hot air balloon! If you harbor a fear of heights, and aren't particularly interested in churning butter, there still might be something at Conner Prairie for you.
The Conner Prairie Amphitheater hosts the Indianapolis Symphony Orchestra every single week during the summer months. The "Symphony on the Prairie" program brings guests from around the world, and each week you can see and hear something new. Patrons bring their own chairs and blankets to the grounds, and many even pack picnics and beverages. Cheers to a great night full of music and fun!
In addition to the parks and museums open to the public, there's plenty of ways to get out and about in Fishers.  There are over 131 miles of trails weaving throughout Fishers. These trails are perfect for walking, biking, roller skating…whatever your heart desires. You can't go too far throughout Fishers without coming across one of these trails, and being active is important to Fishers residents.
Within the city there are over 60 different fields for various sports, and youth sports are huge in the community. There are countless opportunities for kids to be active in sports, whether that's at school, youth leagues, church leagues, or just pick-up games at any of the fields and grounds mentioned earlier.
Downtown Fishers, Indiana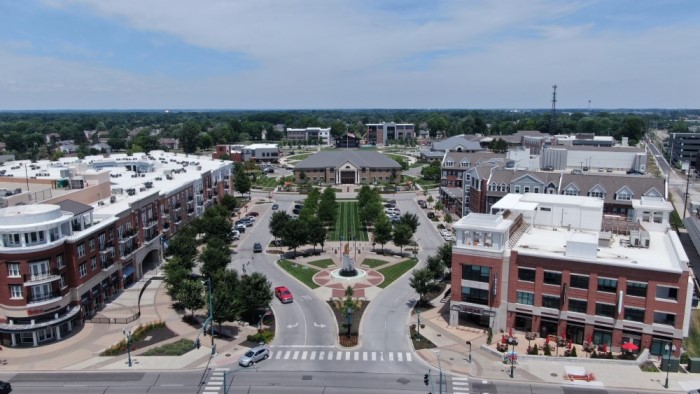 The downtown atmosphere of Fishers IN has exploded in restaurants and bars, and what was just a few establishments only years ago, is now a thriving entertainment area. The vision of the construction in the downtown area was centered around a walkable area where residents could come to relax and enjoy themselves, whatever that means to them.
You can find everything from organic coffee shops, to craft breweries, to wine tasting rooms, and of course every kind of food in between. If you want to get your hands on some fresh farm to table produce, you can check out the farmers market here in downtown, and it isn't just in the summer. Fishers offers a Fall Farmers Market that continues through December.
Fishers is also home to another amphitheater, the Nickel Plate Amphitheater. Here you can find family friendly fun all summer long with wonderful music, great food trucks, and an all around great night of family fun. There's always something new, and new construction is constantly expanding in the downtown area, offering more and more choices to its patrons with every passing year. 
Thinking of moving to Fishers, Indiana?
What more could you want from this suburb haven of Fishers Indiana? With an affordable cost of living and plenty to do, Fishers is quickly becoming a top place to live in the Indianapolis Metro area. And we can help you get there! Connect with us to get started on finding your dream home in Fishers, Indiana.