Top 5 Walkable Suburbs of Indianapolis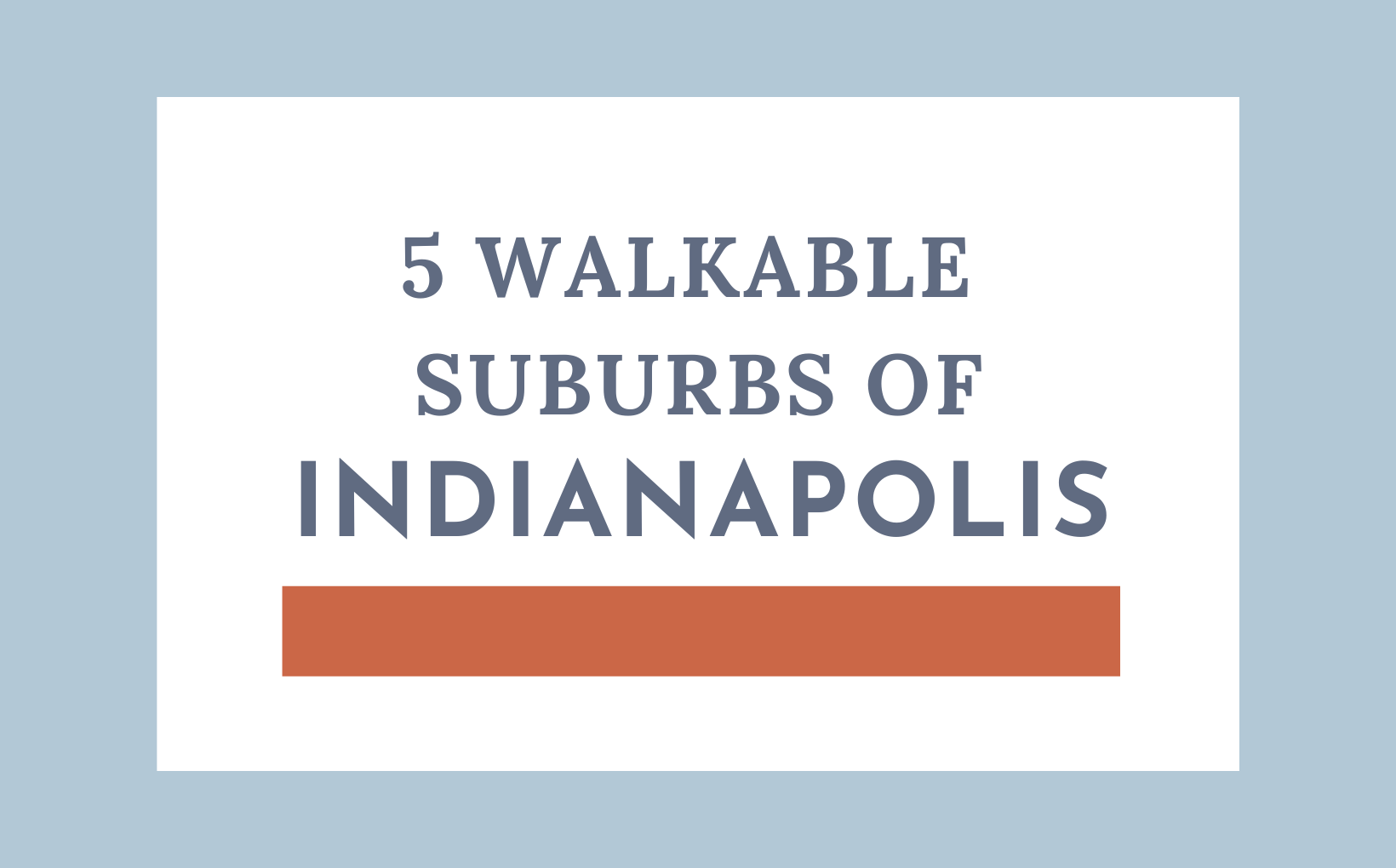 If you think you have to give up the walkability of big city life when you move to the Midwest, that isn't always the case! There are a few walkable suburbs of Indianapolis that might surprise you. Being able to walk to amenities provides countless benefits including reduced carbon emissions, lower gas expenses, and of course the benefits of staying active and healthy. Living in Indianapolis can be as walkable as you want it to be, you just have to find the right spot!
What does walkability really mean?
Walkability has become a buzz word in the realms of real estate, conservation, and even fitness. But this concept is nothing new. Humans have been walking everywhere for, well…forever. After all, our parents and grandparents did walk to school uphill both ways! Being able to walk to a grocery store, drug store, and fun things to do frees up your mobility.
You don't need to drive or find parking, it's really good for you, and it's an excellent way to get to know your area and take in your surroundings. If you were in a car or on a bus, you wouldn't be able to smell those street hot dogs!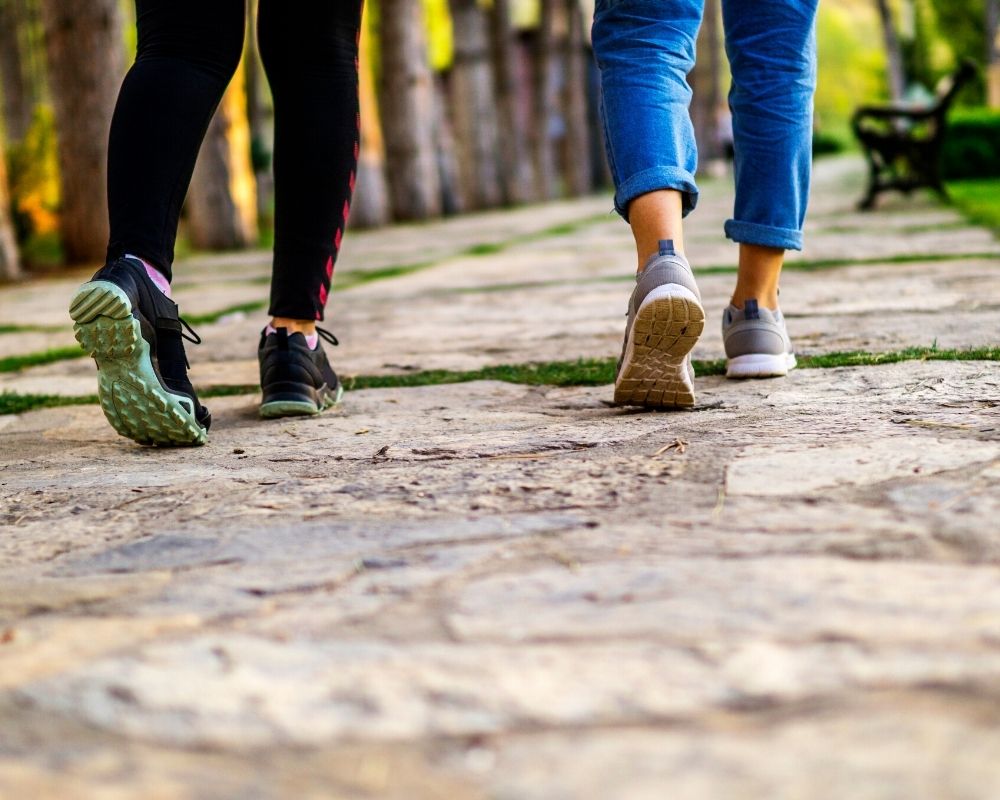 Are these towns really that walkable?
Before we get into our list, let's get a little disclaimer out there. Walkability means something different to everyone. You might read this list and think "These areas aren't walkable, they're suburbs!" This is true, the suburbs of Indianapolis are never going to be as pedestrian centric as Brooklyn or Chicago. And among the cities on this list, it's important to note that we aren't claiming the entire city is walkable, but parts of them are.
This list is mostly centered around downtown areas, which tend to be the most condensed, highly populated, and walkable areas. No, you couldn't walk from one end of Carmel to another. But you could walk from one end to the other of its Arts and Design District if you wanted to. Walkability is also greatly dependent on each person's desires and personal fitness levels. Someone might only consider the grocery to be "walking distance" if it is on the same city block. Another might think walking a mile is no big deal. Much like Einstein's work, it's all relative.
5 Walkable Suburbs of Indianapolis
Carmel, Indiana:
Carmel has two particularly walkable areas, making it the first walkable suburb on our list. The Village of West Clay, located in West Carmel, is as beautiful as it is walkable. Within the village, you'll find small shops and a few dining establishments. Though there aren't many businesses in the village, the aesthetic of this area makes it an extremely desirable place to live. The homes in West Clay are absolutely stunning (with price tags that stun, as well!) If you can afford it, there are a few downsides to living in The Village of West Clay.
The Arts and Design District, Carmel's downtown area, is one of the most well-known walkable areas in Indianapolis. There are countless things to do, places to eat and drink, activities on the weekends, and plenty of parking nearby. While it is expensive to actually live in The Arts and Design District and the options are limited, it is still possible to be able to walk, run, or ride your bike to the area. The Monon Trail runs right through the middle of downtown, connecting much of the rest of Indianapolis to this central hub. As long as you live near enough to the trail you can get in and out of The Arts and Design District without ever climbing into your car.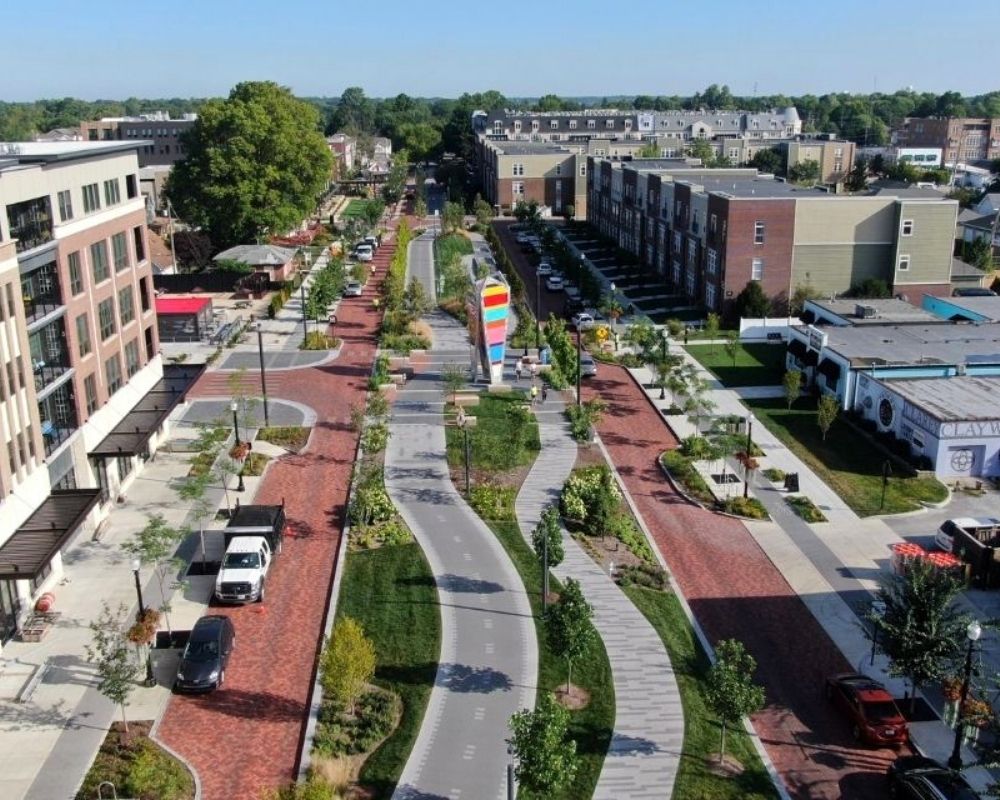 Fishers:
The Nickel Plate District and The Yard at the Nickel Plate District are two connected gathering areas that make Fishers another walkable Indianapolis suburb. One of the greatest attributes of The Nickel Plate District is its Amphitheater. This outdoor performance arena hosts musical acts throughout the summer during the Summer Concert Series, and every one of them is free! Thousands of spectators file onto the grounds nightly to enjoy free music and a beautiful Indiana summer night. The parking for these events is relatively easy, and they are always family-friendly, so the whole family can come along.
There isn't much to eat or drink in The Nickel Plate District, so to satiate hungry visitors, Fishers has constructed The Yard. This food-centric part of town is connected to The Nickel Plate District via pedestrian paths, but it can be a bit misleading if you haven't ever actually walked from one to the other. Yes, you can walk between the two, but it's not necessarily close or easy. Pedestrians have to cross I69, a busy highway, and the distance is one you might not want to travel if the weather isn't perfect. Add on the fact that you might be lugging around lawn chairs and a mini cooler for a concert in the park, and you might be better off just driving.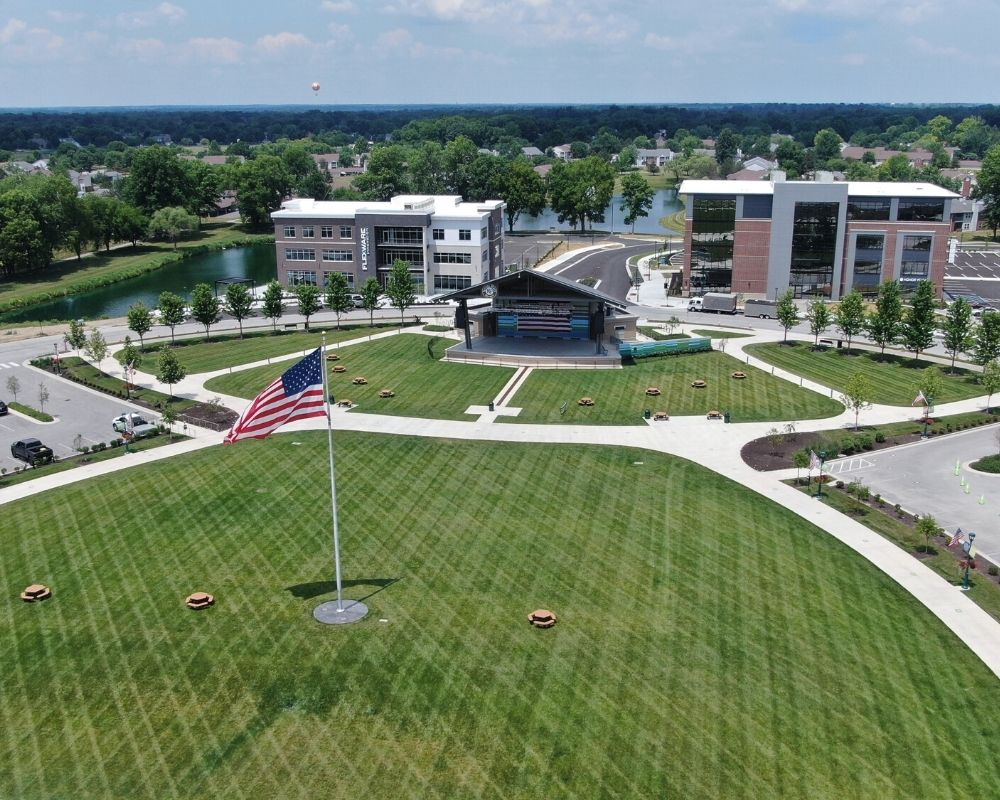 Zionsville
Though Zionsville is a large suburb and a great deal of it isn't particularly walkable, the downtown area is another story. Downtown Zionsville is as charming as it gets. With its brick streets, antique stores, and boutiques, it's easy to forget you are even in Indianapolis when you are walking the streets of Downtown Zionsville. There isn't as much parking as you will find in Fishers and Carmel, but it generally isn't too difficult to find a parking spot, and once you have parked the car you can reach everything within downtown on foot.
You'll see residents and visitors out and about in Downtown Zionsville all year long; it's a great place to enjoy green space and get fresh air. Lions Park is walking distance from Downtown Zionsville, so that makes this quaint part of town ultra family-friendly. The park offers countless courts and sports fields, playgrounds, picnic tables, nature trails, shelters, and restrooms. You could easily spend an entire day at the park. Or better yet, take a little detour and grab lunch downtown between your morning walk and your team-building soccer game with your coworkers!
Noblesville:
Though it may surprise you, Noblesville has a population of over 60,000 people, making it no small suburb. Though the majority of these people are spread out throughout a more suburban area, Downtown Noblesville is a condensed, classic downtown square. Of all of the walkable areas on our list, Downtown Noblesville is by far the most historic. Here you'll find the courthouse, streetlamp lined sidewalks, and quaint shops with striped awnings. Downtown Noblesville at times feels more like Mayberry than Indianapolis.
If you prefer contemporary, new construction, you won't find that in Noblesville. At least, not downtown. There are plenty of fun and unique places to eat, drink, and even stay overnight, but all of these establishments are in older buildings. Sidewalks and streets are charming but are clearly not new. Much like Downtown Zionsville, there is plenty of street parking, and once you are there you can walk to just about everything. The only attraction that isn't walking distance is the amphitheater, but it's not quite as large as the Fisher's Amphitheater and doesn't offer as many performances throughout the year.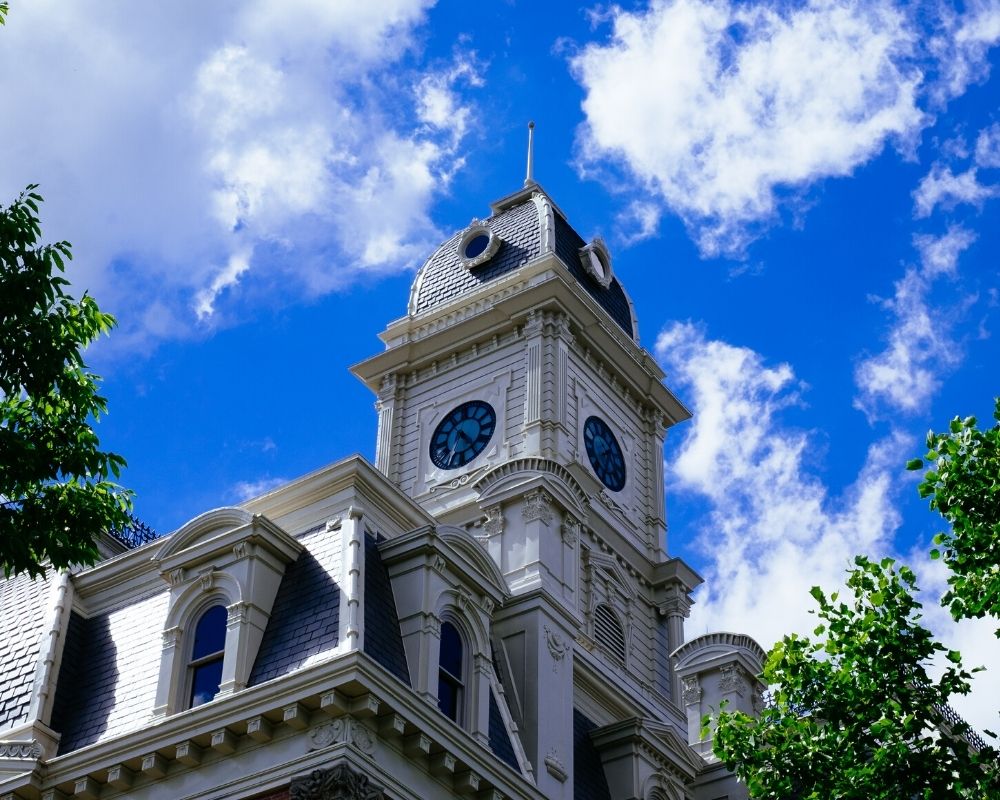 Plainfield:
Plainfield is another small town that packs a punch when it comes to a downtown gathering area.  Downtown Plainfield is also a historic area, but the plans to expand are in the works and they show a lot of promise. One of the best things about Downtown Plainfield is the fact that US40, a major thoroughfare that runs throughout the state of Indiana, runs right through downtown. This makes it easily accessible. Though a major highway runs through Main Street, don't fear. The sidewalks are large and mostly fenced with decorative fencing, making pedestrian travel feel very safe.
Another wonderfully accessible feature of Downtown Plainfield is its connection to the rest of the city via trails. The Plainfield trail system is one of the best in the city. Much like the Monon Trail that runs through The Arts and Design District connecting Carmel, Plainfield is full of weaving little paved paths that lead throughout the town and can take you to and from Downtown Plainfield. While it might not always be walkable due to the distance, biking, skating, or skateboarding are all great ways to get around on the trails and cover more ground.
Looking for a walkable suburb of Indy to call home?
If you think you'd like living in one of these walkable areas, the best thing to do is to take a drive around (or better yet, a walk!) See what businesses and amenities are nearby that are of interest to you. You might find a hidden gem you never would have found if you weren't on foot.
Now that you know there are plenty of walkable areas in Indianapolis, lace up your tennis shoes and get going! If you're ready to call Indianapolis home, reach out to me at Compton Realty, I would love to help you find your next home in the Indy Metro Area.