Top 5 Small Indianapolis Suburbs for Families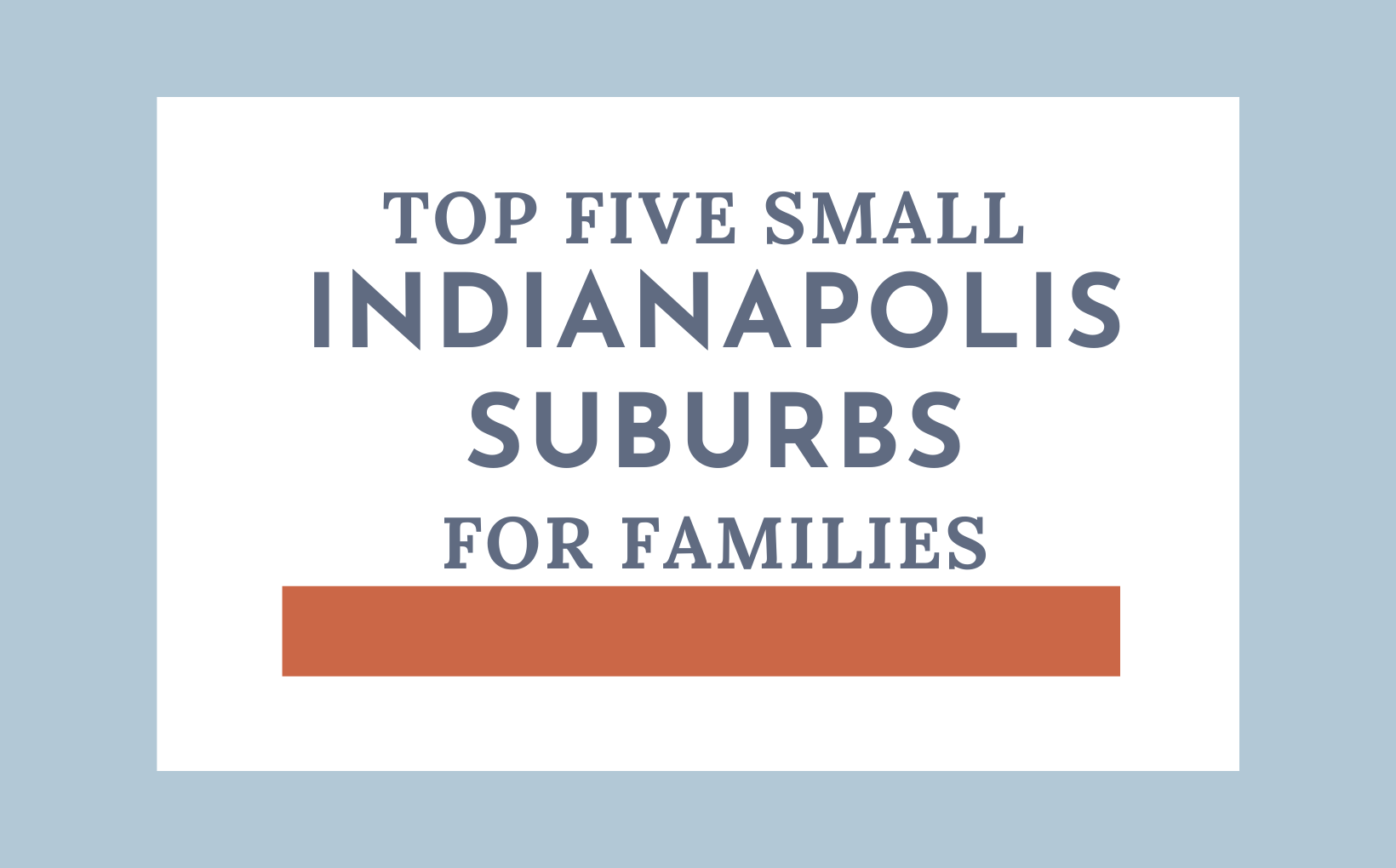 Indianapolis is known for its family-friendly suburbs, but generally speaking, a few repeat offenders come to mind first. Fishers, Zionsville, Carmel, Greenwood, there are so many great suburbs to raise a family in Indianapolis. But most of these suburbs are actually pretty large, and not everybody is looking for shopping centers and movie theaters.
What kind of suburbs can you find in Indianapolis that are family-friendly, but smaller and quieter? Whether you are looking for a country lifestyle, lake life, or subdivisions with just a little bit more space, check out these five small, family-friendly Indianapolis suburbs.
1. New Palestine
For the Indy resident who wants to feel like they don't live in the suburbs of Indianapolis, New Palestine is a perfect fit. Nicknamed "New Pal" by locals, this sparsely populated area is rural and wide open. New Palestine is an excellent place to live in an agricultural setting, and maybe even have a bit more land yourself.
For those interested in this county-adjacent lifestyle, there are obviously a few amenities that must be sacrificed in the quest for the front porch swing lifestyle. If you live in New Pal, you won't be walking distance to anything. In fact, you won't even be a few minutes' drive to anything. The amenities in New Palestine are few, but you can of course, get what you really need. There are grocery stores, clinics; all the basics to be found around town, but for your extensive shopping you will need to head to a more populated area.
One of the best things about New Palestine is its well rated school system. Though small (with just around 1,000 kids attending the high school) the schools here are top notch. So much so, in fact, that many students throughout Hancock County attend the New Palestine High School, even if they don't live there. If you are looking for a safe, family friendly suburb that embraces the slowed down sweeter things in life, New Palestine might be a great place to call home.
2. Bargersville
Moving upward in population (but only slightly) is Bargersville. This family friendly suburb of Indianapolis is just about as far south as it can get and still be considered the Indy Metro Area. Even further south than Greenwood, Bargersville may be far from the city, but it still has a lot to offer. The schools are great, the homes are beautiful, and there is something fun to get out and do almost any time of the year!
Bargersville is a fantastic location for those who love the outdoors. The plains of central Indiana give way to rolling hills and dense forests the further south you go towards the Mighty Ohio River on the state's southern border. The Hoosier National Forest and Brown County State Park are both stunning areas to the south of Bargersville that are a perfect getaway for the nature lover. With fishing, hiking, camping, and wonderful mountain biking trails, Bargersville feels much more like the wilderness than you might expect in Indiana!
3. Pittsboro
Pittsboro is a charming suburb on the far west side of the Indy area, west of Brownsburg, IN. With a population of just about 3,500 people, Pittsboro is by no means big, but it's not as small as Bargersville or New Palestine. Being close to Brownsburg, one of the biggest Indy suburbs, means residents of Pittsboro have all of the Brownsburg amenities nearby, but enjoy a quieter lifestyle. Pittsboro is a nice mix between New Palestine and Bargersville, as it's somewhat rural and open, but very close in proximity to Eagle Creek State Park.
Eagle Creek State Park is the largest park in Indianapolis, and one of the largest municipal state parks in the entire country. With thousands of acres of woods, trails, and even a sparkling reservoir with access for boating and fishing, there is something for everyone at Eagle Creek. Much like the southern areas of Indiana, the terrain in Eagle Creek State Park is rather hilly, which is for many a nice change from the flat and barren feeling of much of Central Indiana.
Whether you live on the outskirts of the park, or just visit on occasion, this little gem is a wonderful attribute of the western side of the Indy Metro Area.
If you live in Pittsboro, your children will attend Brownsburg High School if you choose the public education route. Though this school is large, the ratings speak for themselves. Brownsburg High is a superb school to send your children to, and the opportunities abound when it comes to activities, sports, and clubs students can be involved in.
4. McCordsville
McCordsville is so close to Fishers, Indiana, that many consider the two synonymous. They are not, however, because McCordsville is much smaller and quieter. Being close to Fishers allows residents of McCordsville to have access to its amenities, but there is still much of a suburban and rural feeling to McCordsville. If you like this area, move fast, because it's one of the fastest-growing parts of the Indy Metro Area.
One of the biggest perks of this small, family friendly suburb is the Geist Reservoir. Home to over 1,900 acres of water, this beautiful water feature is one of Central Indiana's biggest attractions. Lake life is the only life in Geist. Fishing, boating, swimming, and all around aqua-fun is what living near the reservoir is all about. This area absolutely explodes during the summertime, though, so be prepared if you decide to call this place home, because you will certainly be hosting a larger population when the sun comes out and the weather is fine.
5. Cicero
Finally, Cicero, IN, is perhaps the gem of the smaller and sometimes overlooked family-friendly suburbs of Indianapolis. Cicero is located on the very northern end of the Indy area, so if you work in Downtown Indy, or enjoy going into the city often, Cicero would be a bit of a drive. But the pros far outweigh the cons in this small but mighty suburb.
Cicero is located near Morse reservoir, offering just about everything you would enjoy at Geist Reservoir, but on a smaller scale, and at a calmer pace. Morse is just as lovely as Geist, but Geist Reservoir can get a bit rowdy as the days ramp up, especially around holiday weekends. The young crowd (so, the drinking crowd) can really turn Geist into a party, and not everyone who loves the water is looking for that. Morse Reservoir also offers a small beach for swimmers and sunbathers. No, it's not Panama City, but it's still a beach, and it's a great place to take the family on a hot summer day.
Depending on where you live in Cicero, there will be a few school district options, all of which are great. If there is one thing you can count on in nearly any suburb of Indianapolis, its highly rated public schools. Cicero Red Ridge Park is a beautiful place to get out and enjoy the outdoors.
If you want a more lively vibe, the scene in Cicero's downtown area is thriving. In recent years, the up and coming downtown in Cicero has really grown into a most charming and quaint environment. Cicero is also home to its very own golf course, something none of our other small suburbs on this list have. There is truly a little bit of everything here, just at a smaller scale than in the larger suburbs of Indianapolis.
Indy is growing, and these small suburbs are too…
Perhaps you have not even heard of any of the suburbs on this list. That's great, especially if you want to live that small-town life. But nearly all of the suburbs of Indianapolis were once nearly unrecognizable names. With excellent schools, affordable cost of living and housing prices, and plenty of space to stretch your legs, it's no surprise that everyone wants a piece of this Midwestern Nirvana.
While all of these suburbs are wonderful places to call home, if you are moving there strictly because it is small, keep in mind things change, even in small towns. Some of these smaller suburbs are growing faster than others, but as the Indianapolis Metro Area grows they are all likely to grow with it. Some of these quiet little areas might not be so quiet in five to ten years.
You can still find places that will remain less populated, especially those that are more rural. If you are concerned with your cozy little spot growing up around you, be sure to do plenty of research such as population growth trends, and city plans for expansion, before making your decision.
Looking to move to an Indianapolis Suburb?
Are you thinking of moving to the Indy Metro Area and calling one of these small, family-friendly suburbs your new home? If so, reach out to me at Compton Realty. I would love to help you find your new home in the Hoosier State!