Why is the east side of Fishers, IN Different?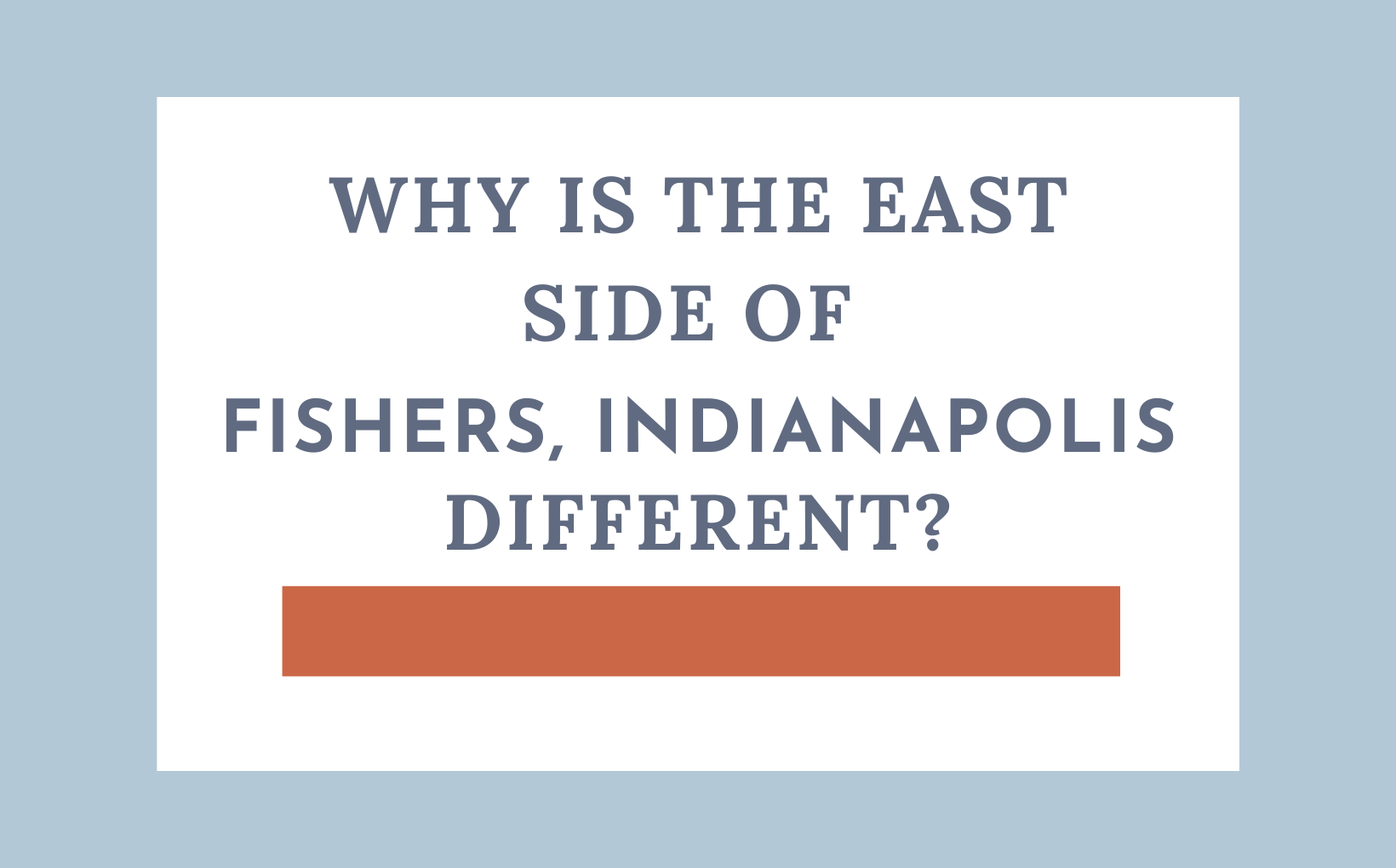 Fishers, Indiana, is one of the fastest-growing suburbs of Indianapolis. This not-so-little town has been growing to the east for the past decade, and one can notice a distinct difference between East Fishers and West Fishers. If you want a little bit more space, and love getting out in nature (or on the water) East Fishers might be the perfect place for you!
East Side of Fishers, Indiana
What area makes up East Fishers and West Fishers?
Though there are no true dividing lines between East Fishers and West Fishers, three sides of town are locked in by bordering towns. On the western end of Fishers, the White River serves as a border, with Carmel being on the western bank of the river and Fishers on the eastern bank. To the north, 146th Street is the Fishers border, with Noblesville lying on the other side. On its southernmost border, 96th street divides Fishers and Indianapolis. The eastern side of Fishers is the only area that allows for expansion, and East Fishers is certainly doing just that.
West Fishers
West Fishers is definitely the place to be if you want to be in the middle of the action. With the Nickel Plate District, the amphitheater, and Downtown Fishers all nearby, there is plenty to do and see in West Fishers. You won't have the space and nature of East Fishers, but if you want family-friendly activities and a lot going on, West Fishers might be the better fit for you.
More populated and dense, traffic is heavier in West Fishers and the homes are much closer together. West Fishers is also older than East Fishers, and you will feel that around town. It isn't by any means "too old" or run down, but it doesn't have the brand new construction feeling that East Fishers has because it is such a new area of town.
This also means you can find more affordable homes in West Fishers because there is a bigger selection of homes that aren't brand new.
East Fishers
East Fishers is much more residential than West Fishers.  If you are looking for a quieter lifestyle, with more space and fresh air, East Fishers could be a great fit for you, because it's very spaced out. It obviously won't stay this way forever as the city continues to grow eastward, but for now, it is spacious. There are trade-ins for having more space to yourself, and one of those is amenities. There are certainly places to get groceries, gas, basic needs, etc around East Fishers, but if you want shopping centers and entertainment, you won't find it here.
With room to grow to the east, almost everything you see in East Fishers is new (as in, five to fifteen years old tops.) If you want a brand new home, or want to live in a new and freshly landscaped subdivision, East Fishers offers plenty of those! The shopping centers are all new in East Fishers, and though there may not be quite as much to get out and do, the new and fresh vibe of the east side of Fishers seems to give off a clean and positive aura that many residents will happily trade for the hustle and bustle of downtown or the west side.
Because the homes in East Fishers are almost all new, home prices in the area are not cheap. If you want to buy a home in East Fishers you will be looking at asking prices from about $350,000 to $500,000. You could perhaps find something for $300,000 or a little bit under, but those properties are few and far between. For the most part, homes are pricey here. Near Geist Reservoir, these homes can easily be close to or over a million dollars.
Though they may not be cheap, the homes in East Fishers have a lot to offer. They are spacious, beautiful, and per dollar provide much more home for the price compared to many other parts of the country, even other parts of Indianapolis.  As quickly as East Fishers is growing, buying a home in the area is a great investment, even if you don't plan on living there forever.
Things to do in East Fishers
One of the reasons many people love living in East Fishers is its proximity to nature. Whether you want to get out on the water at Geist Reservoir or get lost in the trees at Flat Fork Creek Park, you can find plenty of ways to waste away a weekend day.
Flat Fork Creek Park features five miles of trails, a sledding hill, ponds, fields, and even tree houses dotted about the canopy. This park is one of Indianapolis' greatest areas for getting out into nature. You won't find jungle gyms and swing sets; this park is all about getting in touch with the great outdoors. The treehouses are especially exciting for tiny explorers, and there are three of them within the park (but hey, big kids can crawl up there too, nobody is going to tell on you!)
If you thought you couldn't have a boat in Central Indiana, think again! Not only can you, but East Fishers is a great place to do so. East Fishers is located on the Geist Reservoir, a 1,890-acre body of water that holds over seven billion gallons of water!
Whether you enjoy water skiing or just sipping a cool beverage on the dock, there are so many ways to enjoy the warm months out on the water. The homes dotting the banks of the reservoir are stunning, and even if you don't have the budget for waterfront property, there are many homes adjacent to the reservoir where you can live close and enjoy the lake life for a lesser price. 
Thinking of buying a home for sale in Fishers, IN?
Are you considering moving to Fishers, Indiana? If so, reach out to me at Compton Realty, I would love to help you find your perfect home in the Indianapolis Metro Area!