Speedway, Indiana
Suburb of Indianapolis
What to know about Speedway, Indiana
Speedway, Indiana is a quaint and exciting suburb of Indianapolis. With a population of under 15,000 people, it's often touted as one of the best places to live in all of Indiana. Speedway is aptly named, and best known for the Indianapolis Motor Speedway, where you guessed it, is home to the Indy 500 races.
This Indy suburb has become more than a car racing destination though. It has a continually growing downtown area with plenty to do and features quite a few beautifully maintained public parks to enjoy. Speedway is also known for its award winning public school system, where the schools are all highly rated.
Locals of Speedway enjoy the quaint way of life here (even with a massive sporting event held there each year – the Indy 500), where neighbors treat each other like family and are known for being kind. And it's also conveniently close to downtown Indianapolis, making a work commute and the flexibility to enjoy Indy quite easy.
Homes for sale in Speedway, IN are around $130k in price, and if you prefer a historic home, you can find those in the Speedway Historic Home district. Many of the homes there date back to the town's origin in 1912, where homes were built for the convenience of factory workers to be able to get to work easily.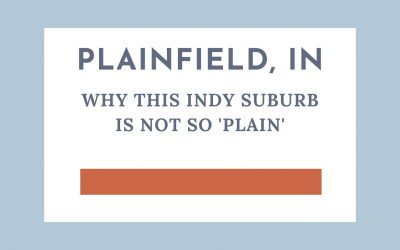 Find out what makes Plainfield Indiana not so 'plain' – from affordable real estate, to fun things to do and great schools!
Ready to find your perfect home in Indianapolis??
By clicking 'Submit' I agree to be contacted by the Living in Indianapolis team via call, email, and text. To opt out, you can reply 'stop' at any time or click the unsubscribe link in the emails. Message and data rates may apply.
Information on this website should not be construed as legal advice as we waive all legal liability from readers' reliance of any information provided. Readers must consult their own realtor or attorney about their own real estate issues.
United Real Estate Indianapolis
Licensed in Indiana
RB14042111