Five Reasons NOT to Live in Fishers, IN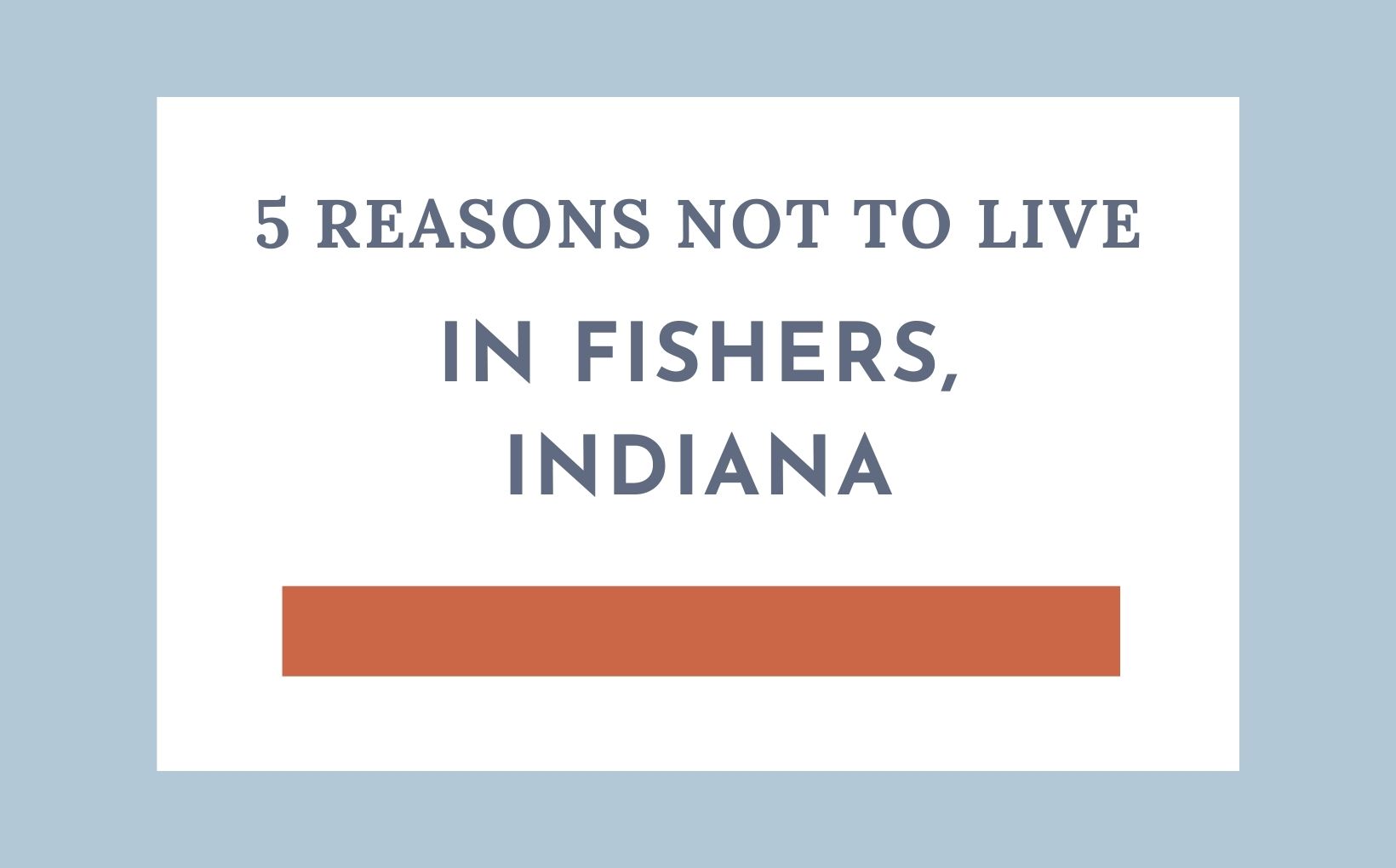 Fishers is one of the most popular Indianapolis suburbs. The north side of Indy is growing constantly, and as people flock to the area, many of them want to call Fishers home. If you are thinking of moving to Fishers, however, you should consider a few reasons why this part of town might not be right for you. Between its constant construction and surprisingly expensive housing, here are five reasons to not live in Fishers, Indiana.
Five Reasons NOT to Live in Fishers
#1. The schools in Fishers are highly rated but large.
The Indianapolis suburbs have some of the best schools in the entire state, especially the north side suburbs. Because these are such popular areas to call home, there are plenty of kids attending these highly rated schools. Carmel High School is actually the largest school in the state. Though Fishers is not as big as Carmel, the high school was still reaching capacity, and split into two schools; between the two about 6,000 students attend. Even at just over 3,000 each, these are not small schools.
A large school can be a great fit for many kids. There are plenty of students to interact with and socialize with, and the competition of a "big pond" prepares students for large state school educations and the rest of their professional lives. For some, however, a large school isn't the right environment. It can be hard to participate in team sports and clubs when there are so many students vying for the same spot. One-on-one time with teachers is also more restricted in a larger school. If students require more interaction with educators to succeed, they have a higher likelihood of being overlooked in such a saturated environment.
#2. Living in Fishers is expensive.
When you think of the expensive Indianapolis suburbs, you likely think of Carmel and Zionsville. But Fishers is up there, too. Fishers offers much to its residents, so much in fact, that it has been rated the number one place in America to live by various publications. The housing is nice, the schools are good, and the quality of life is high. There is no surprise that plenty of people want to live in Fishers, so the demand for the lifestyle here makes it come at a bit of a premium.
When you buy a home in Fishers, you are really paying for the Fishers address (even if you don't realize it.) The median home price in Fishers is $300K, but that is probably on the low end. You're more likely to be looking at homes that are near or around $400K. That isn't as affordable as you might have hoped. There are other great neighborhoods in northern Indy that don't cost as much and offer nearly the exact same things, such as Noblesville, Indiana. If you like the north side and know it is the place for you, and you don't want to live in a particularly expensive area, there are other great options in this part of town that will cost less than Fishers. Yes, you will be giving up the Fishers amenities, but if you live nearby, they will never be too far.
#3. Fishers is not a small town.
Fishers isn't quite as large as Carmel or Zionsville, but it's still a pretty sizable city. Larger than many people realize, actually. If you are looking for a quiet suburb and a laid back, slow pace of life, Fishers might feel a bit busy to you. There's a surprising amount of "things going on" in Fishers. With The Yard at Fishers District, The Nickel Plate District, the Nickel Plate Trail, and other parts of town constantly growing, Fishers has become somewhat of a destination within Indianapolis. If you don't want to be host to all of these people coming into town to enjoy all Fishers has to offer, just know there are likely going to be more of them in the future, not less.
You might like the hustle and bustle that Fishers has to offer. There's always something to do, and the sense of community is well cultivated in Fishers. There are great places to gather in town, and if you want to go shopping or spend a night out with friends, you have many options. Still, some people might be looking for something a bit more calm.
With big schools, an involved community, and constant construction, it can be hard to catch your breath in Fishers. If that isn't what you want, one of the neighborhoods mentioned above for being less expensive than Fishers will also offer a slower pace and simpler lifestyle.
#4. Fishers isn't done growing.
Fishers is growing rapidly, and this means the city has to grow with it. As busy as life already is in Fishers, it is only going to get busier. The construction of downtown areas like The Yard and The Nickel Plate District are always busy, and when they are completed, the areas stay busy as they attract people to the area. The Nickel Plate Trail, much like The Monon Trail, runs through town and offers a fantastic walkability to the area, but it isn't quite complete. There is always something being built in Fishers, so if you don't like that, it may not be the place for you.
Fishers has done a great job of creating a downtown area, but it's not without a few issues. As areas grew around The Nickel Plate District, there really wasn't anywhere else for further development to go, so The Yard ended up on the other side of the highway. While it is great that the city is growing and more options are becoming available, you need to choose one or the other if you want to go out for a bite to eat, and then stroll to a bar or a coffee shop for a nightcap. The Yard isn't even really "connected" to the rest of downtown, so you almost have to pick which area you want to go to and keep to that particular area.
One of the biggest construction projects in Fishers currently is the expansions of I37. This north/south thoroughfare through Indianapolis has been a pain to locals for years. As the north side of Indy grew, the infrastructure was just not up for the task. Now, the highway is under construction to grow both in size and efficiency, with plenty of roundabouts and overpasses along the way instead of stop lights. Someday, this will make living in Fishers much more enjoyable, but the construction on this project is far from over. We have a lot of orange cones standing between now and then.
#5. Parts of Fishers feel rural despite the city's size.
Fishers is a busy city, but it is surprising how quickly it begins to feel rural as you radiate away from the central parts of town. Especially on the east side of Fishers, neighborhoods are newer and feel somewhat dropped out into the middle of nowhere, with nothing going on. You aren't actually very far from the action, but it might feel like it. Given another ten to fifteen years, these long stretches between neighborhoods will fill in with small businesses and more residential areas, and the town will feel less gaping.
You will also notice that many of these neighborhoods feel very new and very similar. If you want a new construction home, or to be the first or second owner of a home, this might be great for you. But you can quickly see the trees and suburban areas don't have a historic or established feeling.
They also seem to lack originality and charm. Again, this might not matter to you, or you might not even consider things like originality to be particularly charming! But if you buy in Fishers, it is likely it will be in a relatively new subdivision where the homes all have a similar look and feel.
Fishers also feels a bit far from Indianapolis itself. If you are working in Downtown Indianapolis, or far to the south or west, you will have a decent commute if you want to live in Fishers. Fishers is a bit landlocked with the surrounding suburbs, so it can really only grow eastward, and this is taking it even further from the heart of Indy. This might be attractive to you, if you want the amenities of Indianapolis close enough to drive to, but not close enough to feel like you are living in the city.
But even within Fishers itself, the drive can get long. If you are considering buying a home on the far east side, know that you will be setting yourself up for a lot of drive time.
Looking for a home to buy in Fishers, Indiana?
Whether or not Fishers is the right neighborhood for you, if you are thinking of moving to the Indianapolis Metro Area, reach out to me. I would love to answer any of your questions and help you find your perfect Indy home.