Best "Downtown" Suburb around Downtown Indianapolis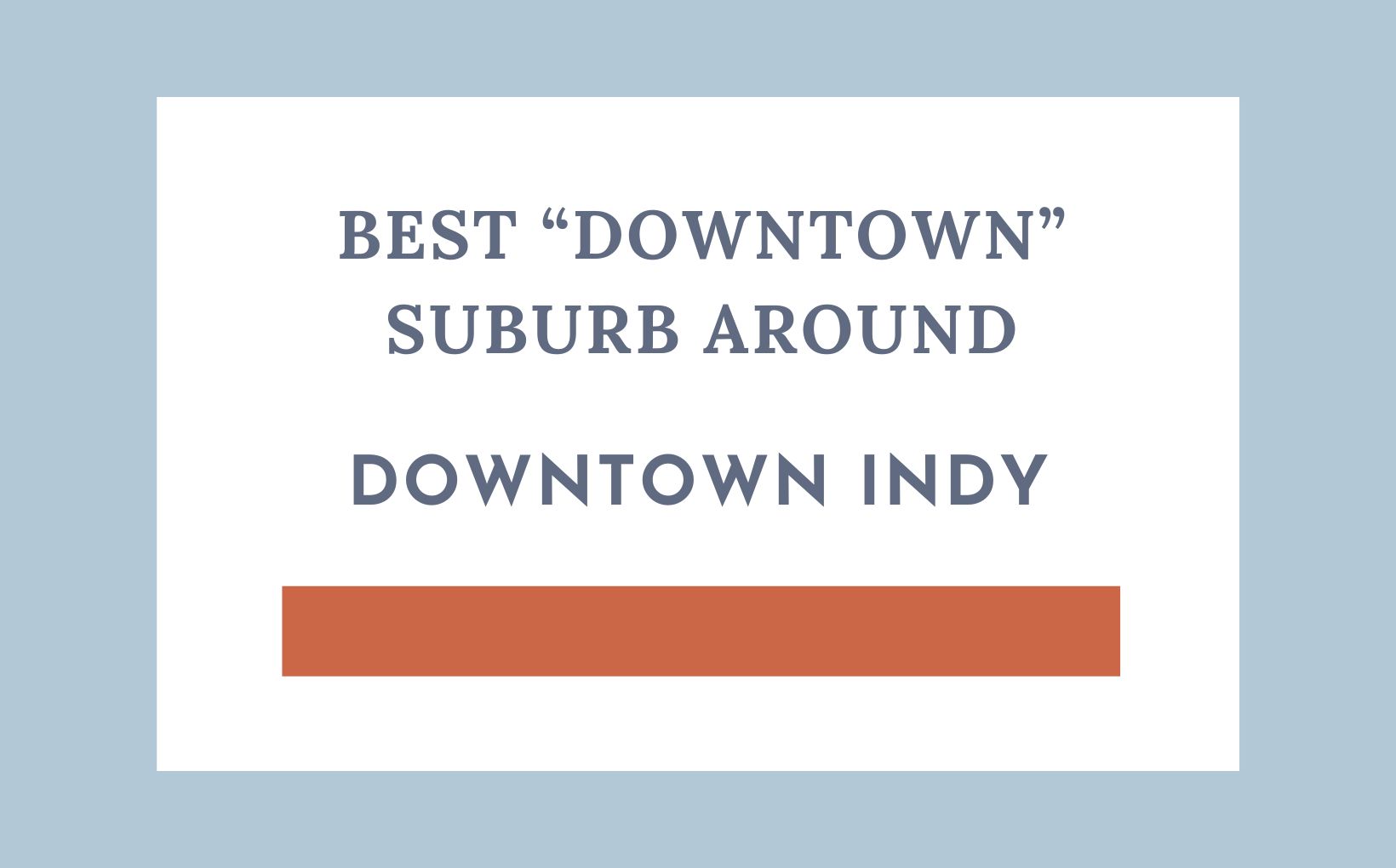 They look different all over the country, but every downtown neighborhood has one thing in common; this is the heart of the city. Downtown is a place where residents and visitors can go to festivals, sporting events, farmers markets, and seasonal gatherings around the holidays. Sometimes these places are the oldest part of town, other times they are sleek and modern. Whatever your preference, the suburbs of Indianapolis have excellent downtown neighborhoods.
Indianapolis Suburbs with the best Downtown Area
Which city in the Indy Metro has the best downtown?
In the surrounding cities around the Indianapolis Metro Area, it's going to be hard to find a downtown that actually beats Downtown Indianapolis. Downtown Indy is home to professional sports teams, arenas and concert venues that host talent from around the world, countless restaurants and shops, and of course the many festivities surrounding the world-renowned Indianapolis 500.
The Indianapolis downtown area has it all, so for this reason, we're omitting it from this list; everything that follows is just icing on the cake. Each of the towns surrounding Indianapolis have their own unique vibe, and their downtown neighborhoods are no exception. Whether you prefer a small-town square or a sleek, modern feel, there are plenty of great downtowns to explore around Indianapolis.
Arts and Design District (Downtown Carmel, IN)
The Arts and Design District in Carmel was actually curated by city planners to give the look and feel of a classic downtown environment because the city had none to begin with. As the city of Carmel grew (growing all the way to a population of 100,000 people) the downtown area was designed to create a gathering area for residents.
Aptly named, there is a plethora of local art to be found in The Arts and Design District. Galleries and shops all showcase and sell everything from original works, to sculpture, to modern pieces and more.
The Arts and Design District is frequently visited by plenty of patrons that don't actually reside in Carmel. There is ample parking available near Downtown Carmel. But what truly makes it accessible is its proximity to the Monon Trail, interconnecting it with much of the Indy Metro Area. This paved, multipurpose trail stretches 27 miles and provides pedestrian access throughout the city, most notably to and from the Arts and Design District.
Though Indianapolis lacks the walkability most large cities have, Downtown Carmel is one of the most walkable parts of the Indy Metro.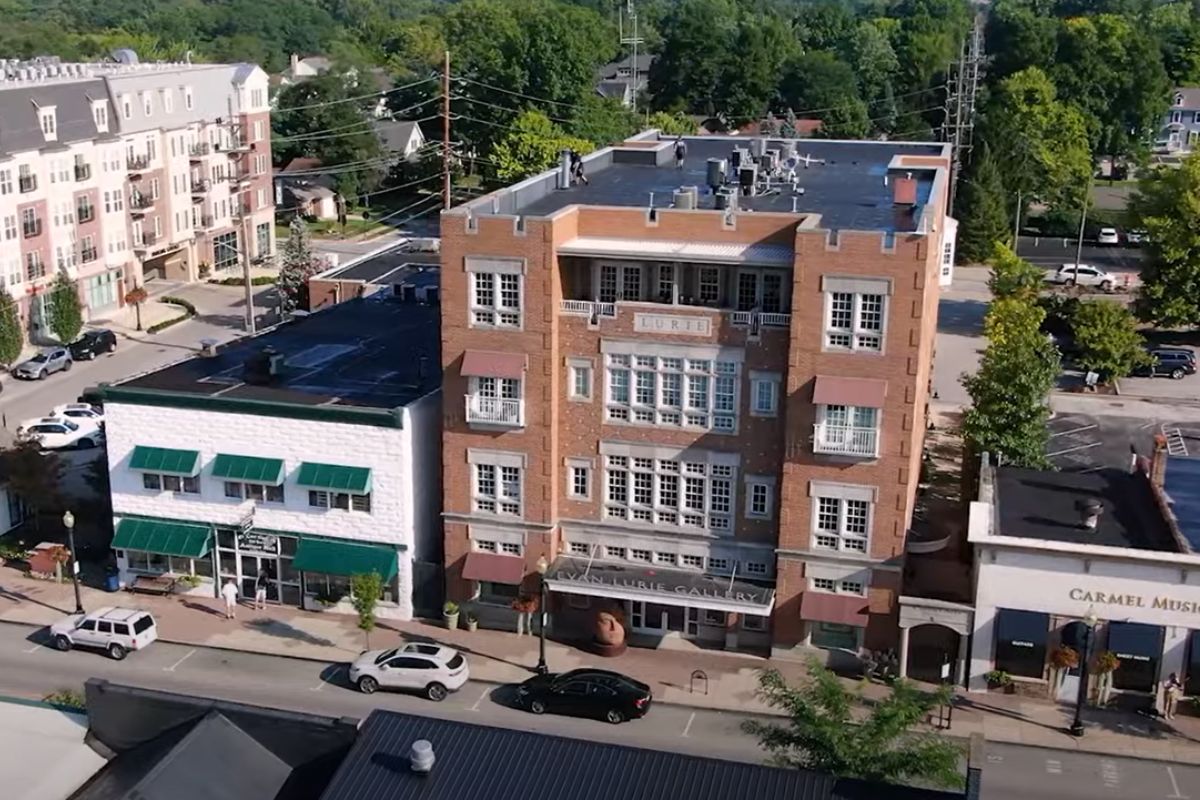 Downtown Fishers (The Nickel Plate District/The Yard at Fishers District):
The Nickel Plate District was constructed in the 2000's to create a downtown area that Fishers was noticeably lacking. The Nickel Plate District soon became home to arguably the best amphitheater in the Indianapolis area. This outdoor stage is surrounded with a beautiful lawn area where audiences can bring in everything from folding chairs, to a blanket, to a full blown picnic. Throughout the year (multiple nights a week during the warm summer months) the Amphitheater is host to an array of performances.
The Nickel Plate District has plenty to do and see, but if you really want to indulge your foodie side, you'll want to head over to The Yard. This part of downtown Fishers was built to cultivate a dining-centric, walkable area in which patrons could visit multiple establishments by foot.
The only downfall of The Yard at Fishers District is that it's slightly difficult to get to. While you definitely could walk there from the rest of The Nickel Plate District, it isn't extremely close, and you have to cross a highway. This makes driving the most reasonable option, and takes away from some of the desired walkability of Downtown Fishers.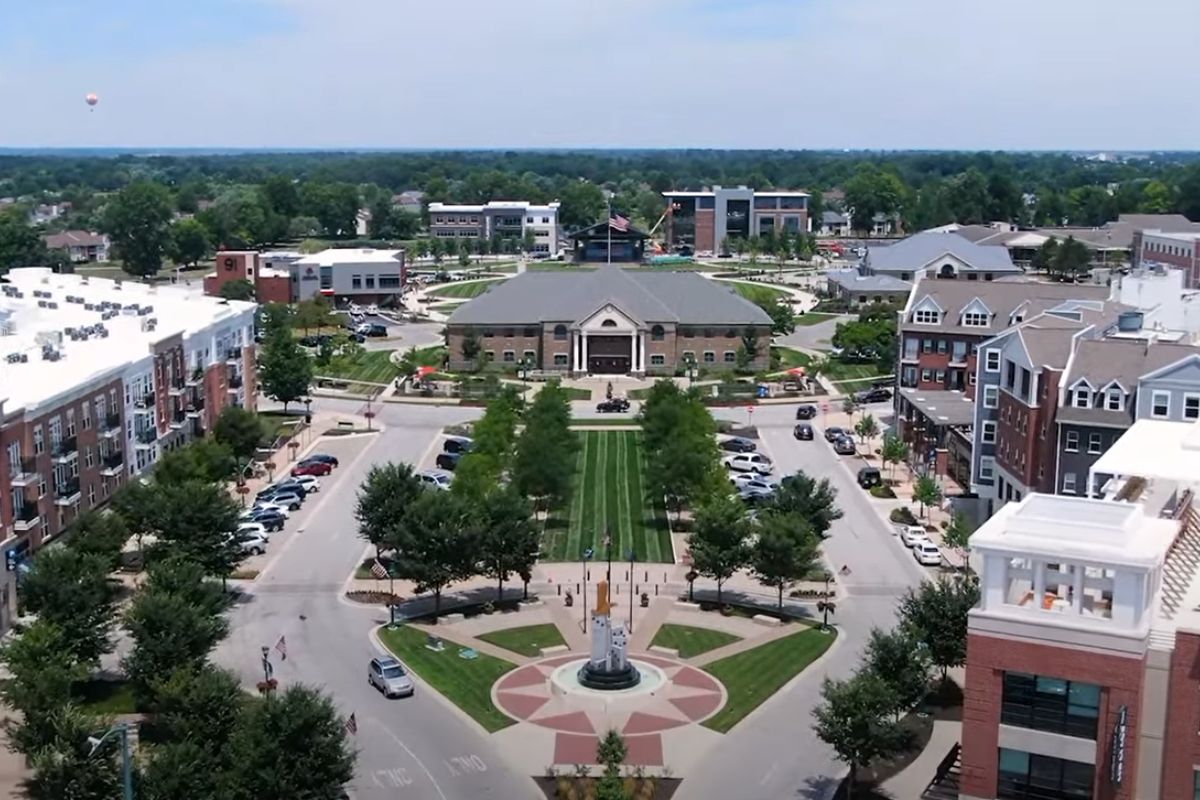 Downtown Zionsville:
Downtown Zionsville is historic, pleasant, and constantly evolving. Within that growth, careful attention is paid to make sure the area maintains its rich history. Mature trees shade the sidewalks and street lamps line the streets. During the spring you'll see bursts of color blossoming from planters, and during the Christmas season lights are strung all over downtown turning it into a life-sized gingerbread town. Even if you buy nothing, just strolling around downtown Zionsville is a rewarding experience.
Historic buildings in Downtown Zionsville are always being renovated. Zionsville is one of the oldest neighborhoods in the Indy area, giving it an almost New England feeling with its Victorian Architecture. Shops and restaurants try to incorporate as much of the original infrastructure and charm as possible when making upgrades and renovations. Visiting Downtown Zionsville is idyllic, and you may find yourself wondering if you happened to walk upon the set of a Hallmark Christmas movie!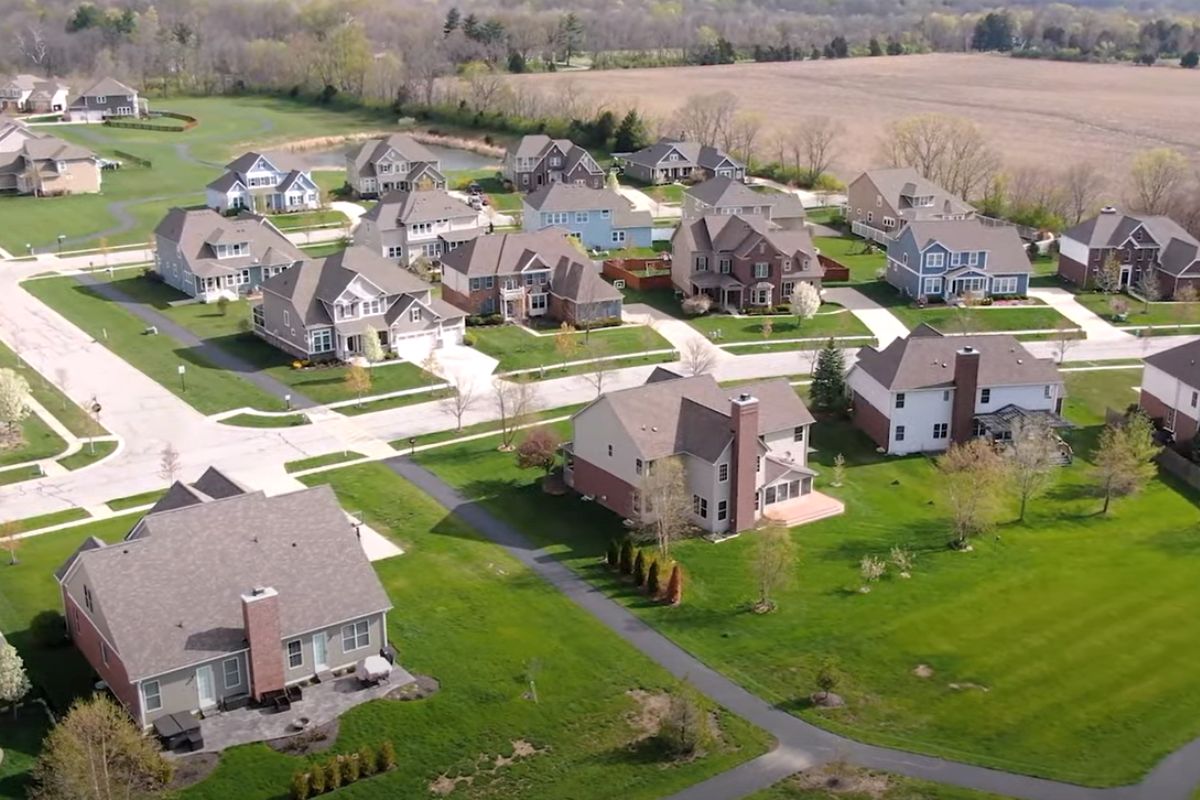 Downtown Noblesville
Downtown Noblesville is truly your classic, all American downtown square. If you enjoy getting out and about in a new construction, modern environment, that isn't what you'll find in Downtown Noblesville. This charming square brings to life a time gone by, and with it comes the peacefulness of quieter days (before we could be reached on a cell phone any time, any place).
It isn't only the historic infrastructure that brings the vintage vibe to Downtown Noblesville. With ice cream parlors and antique shops, you can indulge to your retro heart's content at every corner. The shops and boutiques in the area all seem to cater to an older aesthetic, so even the new businesses blend seamlessly with the old. Much like Downtown Zionsville, keeping and restoring the town's original architecture is paramount in Downtown Noblesville.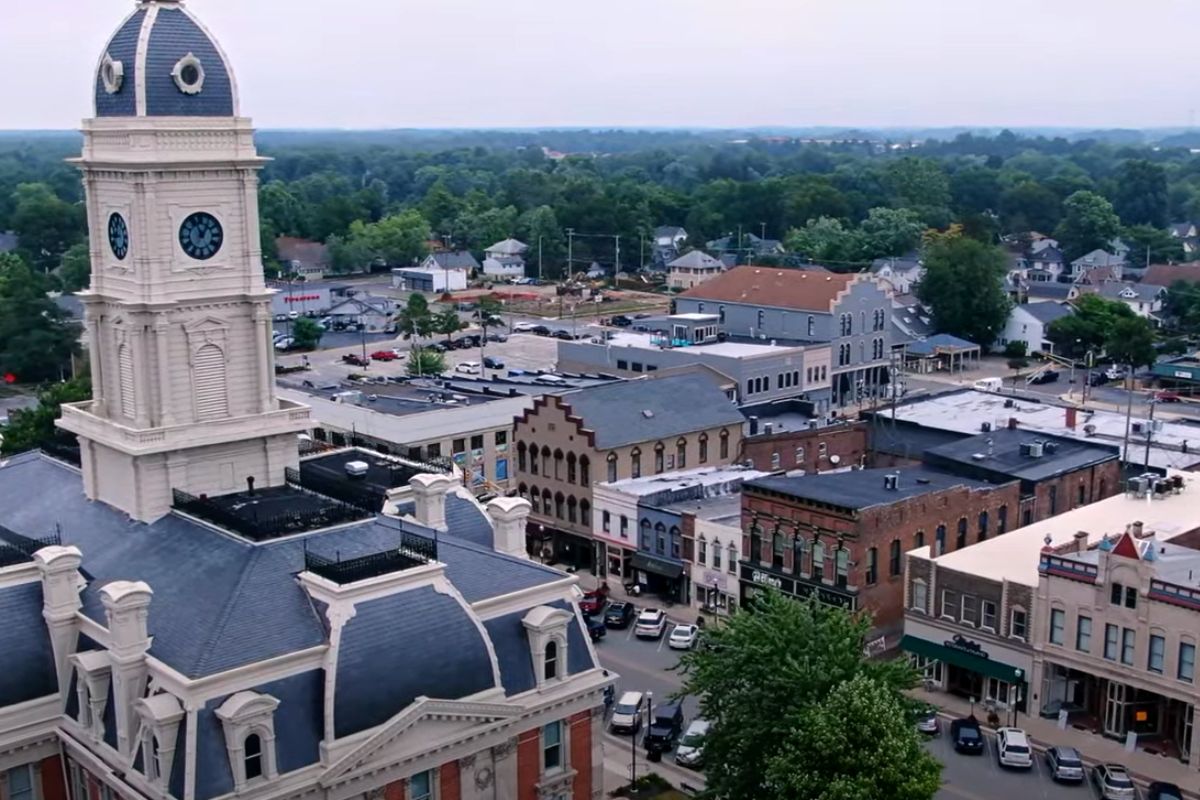 Smaller (but still great!) downtown areas near Indianapolis:
Among the quieter suburbs surrounding Indy, you'll find that many of the downtown areas are present but extremely small. Plainfield, Brownsburg, Greenwood, and Greenfield are all towns with small and cozy downtown neighborhoods. Some of these areas have plans already in place to expand their downtown area, such as Westfield's Grand Junction Plaza.
Finding the Indy Suburb for you
Are you thinking of moving to Indianapolis or its suburbs? If so, reach out to me at Compton Realty with any questions you have about calling Indianapolis home.